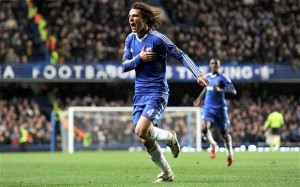 The Champions League quarter finals are set to start tonight, and without a doubt, the more interesting tie is the one between Benfica and Chelsea, while in Cyprus, Apoel will have the daunting task of stopping Real and their goalscoring machine named Cristiano Ronaldo. And while things look pretty much certain between Apoel and Real, a lot more are the question marks when it comes to today's best Champions League prediction as the Blues travel to Portugal to take on the Eagles.
As you know, our best football predictions for the day are based on the real facts, and we maintain that with our Benfica v Chelsea analysis. Firstly, there are the interesting connections between those two clubs. Chelsea has four players they bought from Benfica – Hilario, Ramiers, Ferreira, and now David Luiz. All three of them have provided Roberto di Matteo with vital information on what can be expected from their former side.
Another interesting moment in light of this Benfica v Chelsea prediction is that the two leading English teams have already been eliminated from Europe by Portuguese sides, as Benfica stopped Manchester United from progressing as early as in the group stage, while Sporting took care of Manchester City in the previous Europa League round. To see the last English side alive in Europe getting eliminated by a Portuguese club would be a bit too much. Therefore, our Benfica v Chelsea prediction is that overall, the Londoners will be the ones to progress to the semis in the competition. The odds on that are not so great with bet365 offering just 1.53.
But the question is – could Chelsea take an advantage right away by producing their first road win in the Champions League in 13 months? It has been too long since they last won away from home in Europe, and such runs are interesting to follow when it comes to making bets on popular clubs as these. The value is definitely on the Blues to get a win here with odds of 3.20 provided by bet365. Betfair gives you even more, as always. Chelsea's last away win was by 2-0 in Copenhagen.
Jorge Jesus had an interesting input about this Benfica v Chelsea prediction, for March 27th: "We have to see a strong Benfica tomorrow, against another strong side. We have to be inspired, in defence and in attack; we have to be perfect to win. We are strong at home, but we're facing a very experienced team used to playing Champions League finals and semi-finals so we have to be focused in order to win. The tie won't be resolved tomorrow, it's just the first match. Benfica are a more experienced side nowadays; we know better how to control any anxiety and we cannot start looking for a goal from the start, we have to be patient."
Roberto Di Matteo had the following to say to Uefa.com: "We had some problems, the numbers say it, but we have good players. I still think that Chelsea are a very good team. At Napoli [in the last round] we conceded too many goals, so tomorrow we want to score an away goal and try to avoid them in order to have a more peaceful second leg. Benfica play with great intensity, with lots of pressure, they're a very skilful side. I saw them play many matches, both in Europe and also their domestic league. They have many good players such as Óscar Cardozo, Pablo Aimar, Nicolás Gaitán, Bruno César or Rodrigo."
An interesting fact going into this Benfica v Chelsea prediction is that both teams had goalless draws in their last games in their respective leagues. Chelsea would be poised to get at least an away goal, and so far in their Euro trips, their problem was not scoring but holding on to leads. Here are the lineups fielded by these two teams in their last matches.
Benfica: Artur; Emerson (Saviola 83), Luisão, Jardel, Pereira; García, Witsel (Rodrigo 73), Gaitán, Nolito (Aimar 46); Oliveira, Cardozo

Chelsea: Čech; Bosingwa (David Luiz 60), Cahill, Terry, Cole; Ramires, Essien (Torres 76), Mata, Lampard, Sturridge (Kalou 89); Drogba.
Benfica v Chelsea Prediction: Benfica has not lost at home for quite a long time in Europe, while Chelsea have failed to win on their travels for 13 months now. Something has to give and we favor the Londoners to proceed. Therefore, a draw is the most logical result, but an away win is also a possibility. Benfica are dangerous though, and should not be underestimated especially in Portugal, so Both Teams to Score at 1.83 appears to be the safest bet here.
Betting Verdict: Goal/Goal @ 1.90