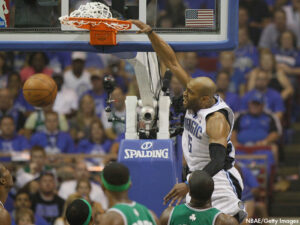 The Magic showed great will not wanting to let go of the series by winning Game 4 in Boston setting up this crucial match up at their own building in Orlando. They now they are a championship team that has underachieved in the first three games against the Celtics and are really determined to keep on fighting. Dwight Howard and Co still have great belief in their capabilities and still dream of reaching the 2010 NBA Finals and you have to admire them for the strength they showed in the last game which they won in OT. Most other teams would simply back down and get swept. But not Orlando.
They are still in these Eastern Conference Finals and now with their home crowd behind them, they certainly have great chances of winning which is in fact our Orlando Magic v Boston Celtics Game 5 Prediction. As long as they dive for loose balls, be aggressive under the rim, keep on attacking relentlessly, they can make life really hard for Doc Rivers and his players.
Another factor working in Magic's favor is desperation. They are playing with a real sense of urgency and desperation as they simply don't have any room for error right now. That's a big thing in the NBA Playoffs. No team in the entire history of the NBA has managed to win a series after going down 3-0. That's a total of 93 series! But if there is a team that can pull it of, that's Orlando. They just have to take it one game at a time and believe in their Magic!
Game 4 was all about D12 and Jameer Nelson who finally rediscovered his All-Star form. He was as aggressive as he should be and kept on attacking the basket finding his team mates wide open. Their 3-point game was finally back and you now Orlando live and die by the threes. Howard was also in top form scoring 32 points in 13-19 shooting, while Nelson posted 23 points and 9 assists. Those 9 assists are in fact more than what he had combined in the first three games of the series! Vince Carter though pulled of another disappearing act and went ice-cold missing 8 shots out of 9 and finished the game with just 3 points. He certainly has to step it up in Game 5 and a lot of the outcome will depend on how he performs.
Stan Van Gundy made an interesting comment after his team's win: "Well, one win obviously does change the mindset. Now ou are going home with some confidence that you can win, and certainly an understanding of how hard you have to play and how hard you have to fight. But like I said, at some point somebody is going to come from 3-0 down and win a series. The only thing I knew for sure was that when it happened it would start by winning Game 4."
A big X-factor in Game 5 will be how Rashard Lewis plays. He still has not a single decent performance in these Eastern Finals playing way beyond his usual level. That's really odd for a player who is the highest paid individual on the entire team getting about 20 million USD per season! Stan van Gundy and all the Magic fans certainly expect a lot more from him and he showed some signs of improvement in Game 4 scoring 13 points. But for his team to win tonight, he will have to score at least 20 points. Redick will also have to hit his open jumpers as he did in the last outing.
Here is the interview of Howard and Nelson after Game 4's win:

Orlando Magic v Boston Celtics Game 5 Prediction: The Magic have their confidence back and know what they have to do in order to win this game, make the result 3-2 and put the pressure on the Celtics as the series moves to Boston.
Bet On Magic To Win @ 1.60 On Money Line!