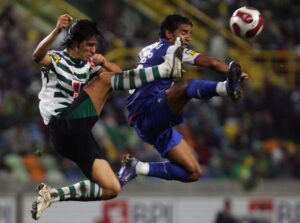 Sporting v Porto is the biggest match in Portugal and tonight's affair promises to live up to all the drama and spectacle that these two sides usually provide. Porto are having an incredible season as if Jose Mourinho was still coaching them – they are without a defeat all season long.
Our pick for this game is a win for Sporting and there are a number of good reasons that make us rate this one of the best football betting tips for this weekend. First of all, it's a derby game and Sporting are playing at their own stadium in front of their own fans so that will be a huge boost for them in terms of motivation and desire to win. Sporting are currently 4th trailing Porto by 13 points and a win tonight is the only thing that will more or less get them back in the title rance or at least within some touching distance.
At the same time, Sporting are a serious side consisting of players more than capable of beating anyone on their day. An interesting fact about this Sporting v Porto prediction is that Moutinho who is a product of Sporting Lisbon' youth system and was their captain for several seasons now plays for Porto and will make an interesting return here.
Good football betting picks represent a combination of a number of different factors like current form, past meetings, league standing. What's interesting about  Sporting v Porto prediction is that the Dragons have not lost an official match in all competitions so far, not even in Europa League and the domestic cup where they field a weaker lineup. It's about time for them to lose and what better moment than the derby.
Sporting v Porto Prediction: The odds for Sporting here are really worth a bet. Online betting companies offer 3,40 on them to beat Porto tonight and that's exactly what we think will happen.

Bet On Sporting to Win at 3,40