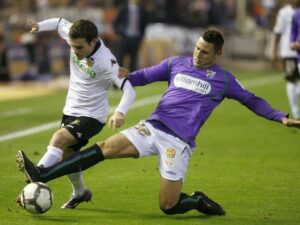 The Spanish Primera kicks off today with this Malaga v Valencia prediction. These are two clubs that were on the exact opposite end of things last season. While Malaga were battling against relegation during the entire 2009/10 campaign, Los Ches qualified for the Champions League thanks some of their big star players who are no longer in their squad.
Traditionally, Malaga has difficult time against Valencia. We always check the statistics before posting our betting picks and we've done our homework once again with respect to this Malaga v Valencia prediction. In the last 10 matches between these two sides, there have been 7 wins for Los Ches and three draws. As a matter of fact, the last time Malaga won against this opponent was back in 2001, May the 13th in a match that ended 3-0 for them! So for almost a whole decade, Malaga has not managed to beat Valencia! Perhaps it's time for a change.
After just escaping relegation to Spain's Secunda Division, Malaga's board of directors decided to invest in reinforcing their roster and spent 13 million euros on new players this summer. Brought in were goalkeeper Rodrigo Galato, Salmon Pandon. Eliseu from LAzio, and Sebastian Fernandez from Banfield. These are some skillful South American players that will improve Malaga for the new season.
Analyzing the transfer summer of Los Ches is the key to this Malaga v Valencia prediction. Basically, the players who carried out the load last season were sold as the club has to deal with a lot of financial problems mainly caused by the development of their new stadium which will be ready for this 2010/11 season. David Villa was sold to Barcelona for around 40 million euros and he was their most important player in the last 4-5 years scoring all the important goals.
David Silva was the man who supported Villa and he is also no longer in Valencia. Silva preferred Manchester City's millions and got transferred there. This will be another major miss for Valencia and without Villa and Silva the team is simply not the same. Don't expect the big games that Los Ches produced last season, as they will struggle much more this time around.
Nikola Zigic was also sold as the Serbian moved to Birmingham. To replaced those three attackers, the board of directors went for Mehmed Topal from Galatasaray, Tinho Costa from Monpelie and Roberto Soldado from Getafe. However, these replacement are not even near the class of Villa, Silva and Zigic.
Malaga v Valencia Prediction: Bet On Malaga to Win! It's time for the hosts to get their first win against los Ches in almost a decade and given the factors explained above, we feel it will happen.