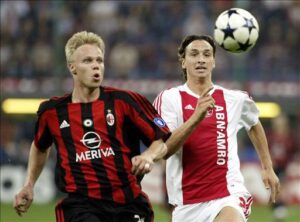 The Champions League is back and BetOnWins.com brings you this Ajax v Milan preview and prediction as two of the most successful brands in club football resume their age old rivalry. There are a lot of interesting facts and connections between Ajax and Milan and we will unveil that in the lines bellow.
As you can see from the image above which was shot back in 2003, Zlatan Ibrahimovic who is currently reinventing himself as a Rossonero, used to play for Ajax and it was the Dutch club that first discovered and then developed his undeniable footballing talent. So it will be an interesting return to the Amsterdam Arena for Ibra, and there is another AC Milan player who is the exact same position – Clarence Seedorf.
Seedorf also started his career in Ajax and was brought up by their famous football academy and youth system. As a matter of fact, in his last season in Amsterdam, he led his team to a victory against Milan in the Champions League final back in 1995. Here is what he had to say on this Ajax v Milan prediction: "The strength of Ajax lies in their enthusiasm. There is more to it than looking at that first match in Madrid, where they missed Luis Suárez. Tomorrow it will be about total concentration. I have a lot of respect for Ajax, who I certainly do not underestimate."
"Ajax have made a good start in their league, they are top. We don't look only at their results but at the quality of their team and the motivation they will have playing against sides like AC Milan and Madrid. Looking for a draw is not the mentality of a big club, and I think Ajax are not thinking about a draw either."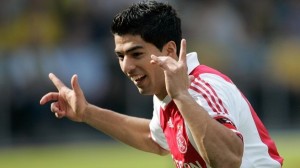 As Seedorf accurately noted, Luis Suarez will be back for this match which is a huge part in BetOnWins.com's Ajax v Milan prediction. He didn't play in the 2-0 loss in Madrid against Real and he solely responsible for over 50% of the team's total goals. Suarez is the heart and sole of this young Ajax side and he will pose the biggest threat to the Italians.
Ajax is on top of the Dutch league right now and have not lost a single match in it so far, having won 4 matches and drawn one. Their last game was a 2-2 draw away at Twente. They have a strong team packed with young talent and it's no coincidence that they gave the Holland team that made the World Cup Final several players in the likes of Van Der Wiel, Stekelenburg and Ooijer.
Another big key for this Ajax v Milan prediction is that the Dutch side will be playing their first Champions League group match in front of their own fans in 5 years! They were not able to qualify for the group stages of UEFA's premier competition in the past 5 seasons and now fans in Amsterdam will be absolutely ecstatic about this big event and that will have a positive effect on the players as well. Ajax are hungry for points and will be looking to take something from this match!
Milan's coach Allegri is expected to change his standard 4-3-3 formation to 4-4-2 as Ronaldinho will be benched. Here is what Allegri said in his Ajax v Milan preview: "It could depend on the last training session if Ronaldinho plays or not. He's played a lot lately. I'm considering making some changes. Ronaldinho has played a lot, if I rest him, we could even change formation. Ajax are full of great players with lots of individual qualities and they play always a very particular kind of football."
Andrea Pirlo and Kevin-Prince Boaten will also be dropped from the starting lineup, as Allegri will opt for Seedorf playing behind Ibrahimovic and Robinho.
Ajax v Milan Preview – Team News
Ajax will be without long term injury casualties Evander Sno, Kenneth Vermeer (Achilles), Thimothée Atouba (knee) and Nicolás Lodeiro (broken foot). Meanwhile, Milan will be without Ambrosini and Pato.
Ajax v Milan Prediction
To get BetOnWins.com's expert predictions on a daily basis, Sign Up For Our 10-Day Betting Pack at the price of just 5$ and start getting all our betting picks for the next 10 days!

BetOnWins 10-Day Betting Package: ONLY 5 USD FOR 10 WHOLE DAYS!

Please keep in mind that all payments are processed at a secured PayPal page. You will receive a confirmation email containing your login details within an hour from receiving your payment.