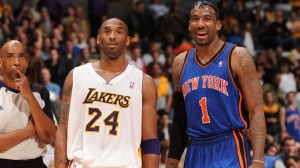 Tonight's top NBA pick features one of the most attractive matchups in basketball with our Knicks at Lakers prediction. The New Yorkers lost on their trip to San Francisco last night, as they were beaten by a Curry-less Warriors team with a 14-point difference. They looked completely off-sync, but winning against lower caliber teams has always been a problem for them. Tonight though, the Knicks have a chance to shine at the big stage in Hollywood against a shaky Lakers team that's 1-2 to start this season and playing their last match without Andrew Bynum.
A really crucial fact about this Knicks at Lakers prediction, making it one of the most accurate NBA betting picks for today is that the New Yorkers have lost 8 straight games aganist this particular opponent. The last time they beat the Lakers was back in February 13th, 2007. So it's been nearly 4 years now, and that's quite a lot. There is no better momemnt for this Knicks team to beat LA as Andrew Bynum will be back after this one. He will be serving the final 4th game of his suspension.
Carmelo Anthony has not played against the Lakers in a Knicks uniform, so he will be hyped up about this one, especially after his poor performance last night. Melo knows all about playing the Lakers after all his Western conference experience with Denver. If he has a big night tonight, there is no doubt the Knicks can get the W and beat the odds, which are staked against them. Bet365 favors the Lakers for the win at 1.55, while the Knickerbokers have real value at 2.60.
Knicks at Lakers Prediction: The Lakers are still adapting to life after the Phil Jackson era, and just a single win against Utah has not changed anything. Yes, it might have gotten their fans all excited again, but the reality is they are not championship-caliber team as they stand right now, even when you add Bynum to their lineup. Derek Fisher is showing serious signs of slowing down, while Blake has been looking shaky. Kobe Bryant is already suffering from a thorn ligament in his right wrist, while Pau Gasol is lacking confidence. Bynum is out serving the last game of his suspension, so the credentials for the Knicks to win are present. All it would take is a strong performance from their leaders, Amare and Melo.
Betting Verdict: Knicks to Win @ 2.60 on Money Line