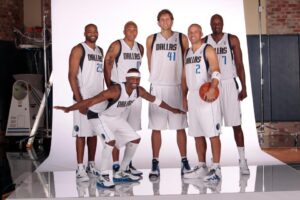 There are a lot of interesting matches about to be played on the night of December 29th, and one of them serves as source for our Mavs at Thunder prediction. The two Western Conference finalists from last season lock horns in Oklahoma in what could spell a historic night for Dallas, but in a bad way. What exactly do we mean by that?
Just rean the full Mavs at Thunder prediction and you will know.
The key to this NBA betting pick is that Dallas, the current NBA champs have lost their first two ball games of the new season. What's even more bothering is the way those games were lost – both were pretty lopsided affairs for the Mavs. They lost on the night of their ring ceremony and were down by nearly 40 points to Miami at certain moments in the game, although the end result was not so shocking at 94-105. Then came the second loss, again in Dallas, to Denver Nuggets and the Mavs were again completely outplayed ending in 93-115!
On the current state of things, Dirk Nowitzki said the following: "We look old and slow and out of shape – a bad combination. I still think this team has a lot of potential. But we have to turn the corner."
What's really interesting about this Mavs at Thunder prediction is that the current NBA champion has not lost their first three games of the season in 40 years now! It could happen to the Mavs tonight, although we feel their group of experienced players will be desperate to avoid that. The last time a reigning NBA champ lost its first three was back in 1969-70 when the Celtics had to deal with the retirement of Bill Russell, so they had a pretty good excuse. The Dallas Mavs can't afford that however.
Yes, they did lose key piences in the likes of Tyson Chandler, J.J. Barrea and DeShawn Stevenson, but the additions of Lamar Odom, Vince Carter and Delonte West should help them overcome that. These three new players should certainly make the champions from Texas more dangerous in offense, as Chanlder is practically a no-factor there. However, due to the shortened training camps, Rick Carlisle didn't have a lot of time to have to figure out the new style for this group of players as these are changes the must adapt to. We feel that's what has been causing the Mavs to look so bad recently, and in terms of our NBA betting tips and picks, it's an important aspect to consider.
So fans abd bookies are serioulsy underestimating the champs here, and that's key to our Mavs at OKC Thunder prediction. Basically, the betting companies online are offering the odds of 3.00 on Dallas to win against OKC, while the hosts are rated at 1.40. Truth is that Dallas are a quality side that has a plenty of weapons to get the win here, especially if they start clicking and Dirk has a big night. Plus, the Thunder were a bit lucky in their last two away wins where they won with just 3-4 points difference against the Timberwolves and Memphis last night.
Another huge factor making this one of the best NBA betting picks for tonight is that OKC will be playing back-to-back games here so that will have an affect on their fitness levels, while the Mavericks haven't stepped on the court since Monday, so they've had three days to rest and get prepared for that game. That time frame has also allowed coach Carlisle to make some improvements and adjustments to the team.
Mavs at Thunder Prediction: It won't be easy against the Thunder in front of their own frantic crowd, but the Mavs shouldn't go into the history books for all the wrong reasons. Russel Westbrook has been in terrible form in the first three games this season with a field goal percentage of just 31.4 and 6 TO per match! He missed all his 13 shots last night. Meanwhile, the Mavs have enough quality in their squad to beat anyone in this league, they just have to start clicking and tonight is the pefect moment for them to remind everyone they are alive with a win against one of the best teams and main rivals on the West. The betting value is defeintely on the Mavs here as you get to tripple your money!

Betting Veridct: Bet On Mavs to Win @ 3.00