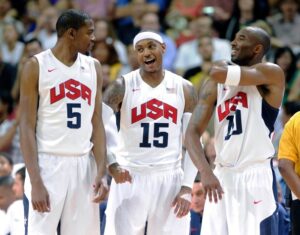 The world is now officially owned by the 2012 Olympics in London, and after Friday night's spectacular opening ceremony, on Sunday, July 29th, sports fans will get to enjoy USA's amazing basketball team going against a rather good opponent in the likes of France. Of course, anything other than the gold medals would be considered a failure for the USA basketball Olympics mission, and the online bookies are offering just 1.14 on them to win outright. They don't even offer any odds for team USA to beat France in this game! Just a +25.5 point handicap is given on France, and the Under/Over Total Points line is locked at 168.5. We give the answers in our USA v France basketball prediction.
While most people are well aware of the USA mens basketball roster, few know the basketball players that will take part in the 2012 Olympics for France, and that's crucial when you want to get the most accurate USA v France basketball prediction. Tony Parker is obviously their biggest start, the guy running the show, and him being one of the best players in the NBA for the past 5-6 seasons, team US will try to contain him from the start. However, Parker is supplemented by some other highly skilled NBA ballers, such as Nicolas Batum from Portland Trailblazers, Boris Diaw who is a teammate of Tony Parker at San Antonio Spurs, Kevin Seraphin from the Washington Wizards, and of course Ronnie Turiaf who just won an NBA title with the Miami Heat.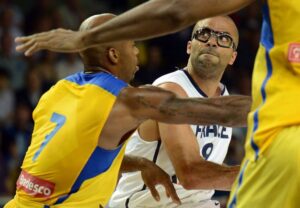 Of course, the US basketball Olympics team are well aware of how crucial it will be to contain Tony Parker. In fact, Chris Paul confessed that regardless of the opponent they play against, their main goal on defense is to stop the point guard: "That's the head of the snake. And it's that way with France probably more with any other team because we know how dangerous Tony can be. But when we played Spain our focus was on [Jose] Calderon. And when we played Argentina it was on [Pablo] Prigioni. So all of these different guys are running their teams and you have to worry about stopping them first."
A certain USA v France basketball "prediction" is that Parker will wear protective eyeglasses, because of the fight he got involved at a New York club about a month ago, but that's another story. This USA Olympic team is almost impossible to beat, unless the original Dream Team from 1992 can get reincarnated. That's just so much talent on the 2012 USA Olympic basketball team, even without the injured Howard, Rose, Wade, Bosh and Griffin. We have already discussed the role of Kobe on team USA.
So the big question in this USA v France prediction for the basketball tournament in the 2012 Olympics is just by how much points will the Americans win this time? Whether they will break down Les Blues right from the start and build a big lead, or will Tony Parker and his support cast have a big game and show some resistance. It's going to be interesting that's for sure. Fact is that USA will win, but France are a quality team that's not going to be so easy to beat.
USA v France Men's Basketball Prediction: To get our betting tip for this game, register for our service.