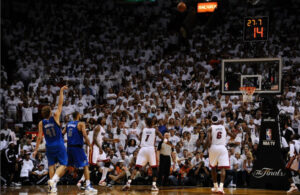 Naturally, tonight's best NBA betting picks and tips are centered around this Mavs at Heat prediction. Dallas won the 2011 NBA Finals against Miami, but the Heat blew them away in the opener on Christmas Night this season. Neither team has been in good form lately, as the Heat lost their last two away games with big margins, while Dallas have been inconsistent all year long. So this game could be a turning point for either team here.
One of the keys to this Dallas at Miami prediction is that the game is very important to both sides. Miami will be looking to bounce back after stringing two serious defeats on the road, which has shaken up their confidence. A lot of people have started to question their abilities now, and the players are probably questioning themselves too. LeBron has been a mere shadow of himself lately. For Dallas, the game is huge, because the Western Conference is much more competitive and just a few losses could take them out of the Playoff picture. They are currently 5th in the standings (29W-22L), but the 8th placed Houston Rockets have just two wins less (27W-24L).
Another important factor to this particular NBA betting pick and Heat vs Mavs prediction is that Miami now has 14 straight home wins. Dallas is exactly the type of team that can break a long run like that. The online bookmakers are heavily favoring the Floridans for this contest with the odds on them to win as low as 1.20. The real betting value is on the Mavs as you can quadrupal your money on them to win with odds of over 4.00.
Of course, when it comes to making accurate NBA betting picks and predictions, one has to always examine the individual match-ups. At guard, Mario Chalmers will go up against Jason Kidd. Chalmers is one of the best 3-point shooters in the NBA this season hitting over 41% of his attempts beyond the arc. While Kidd is not such a great threat in terms of shooting the ball, he is more careful with it and is the much better distributor. If Dallas is successful in slowing down the game, then this would work in Kidd's favor and their entire team would be in a much better position to win this ball game.
Wade will go against Carter at the two, and the advantage for Miami is obvious there as Vince has scored just 24 points in his last four games! But while Carter will start the game on Wade, one of our Mavs at Heat predictions is that Jason Terry and Roddy Beaubois will get plenty of playing time at shooting guard, and they can do a lot of damage in Miami. At the three spot, LeBron will square off versus Marion, who is a good defender, and can score the ball on a good night. Here comes the big blow for Miami, because LeBron has dislocated his ring finger: "The only recovery for it, the doctors told me, was rest. And I think we all know I'm having none of that." King James has been in bad form lately, scoring just 18.7 PPG in his last 5 matches. If he has another bad night tonight, Dallas can pull of the upset here.
The closest contest in this Mavs at Heat prediction is the one between Dirk Nowitzki and Chris Bosh. There is not much that one has to say about the quality these two players have. After a slow start to the season, Dirk has picked up the pace lately having scored 27+ points eight times in the month of March.
At center, Mahimi will be up against Anthony, and while both of them are practically a no-factor in offense, they provide a solid presence under the rim. Anthony is the better defender of the two of course.
When you want to make the best NBA betting predictions and tips, you definitely have to analyze the benches. In this particular Dallas at Miami NBA game, the advantage is definitely in favor of the visitors. Dallas's second unit is averaging 40.8 PPG, while Miami are averaging 24.3 PPG as they are heavily reliant on their Big Three.
Mavs at Heat Prediction: The Mavs are seriously undervalued in this contest, yet in our expertise, they do have a good chance of snapping the victory. Their starters match-up well against the ones that coach Spoelstra will field, while their second unit consisting of high class performances such as Jason Terry, Brandon Wright, Lamar Odom, and Roddy Beaubois should provide a big advantage.
Betting Verdict: To get our actual betting pick for this game, sign up for our paid service.