It's that time of the year where NBA basketball is entering its most decisive and dramatic stage, so we bring you our Thunder at Spurs Game 2 prediction. There is the feeling that the eventual NBA Champion will come out of the West, just based on how good both of these teams are. And yet, one can't help but feel that the Spurs have the upper hand in this contest. They have a deeper roster and experience on their side, but for the sake of making the most accurate NBA betting tips and picks, we just can't underestimate the power of youth and athleticism that the Thunder undoubtedly have. So not just this Thunder v Spurs Game 2 prediction, but the entire Western Finals series is a battle between old versus youth, past versus future, experience versus athleticism.
San Antonio Spurs took the opener in a dramatic fashion, after trailing behind for most of the game. It was Manu Ginobili that saved the day for them with his explosion in the second half. He ended the game with 26 points, and he is coming of the bench nowadays, so it was a huge performance from the Argentine. He was going real hard against the current Sixth Man of the Year – James Harden, who had a bad day, despite nailing two 3-pointers late in the game.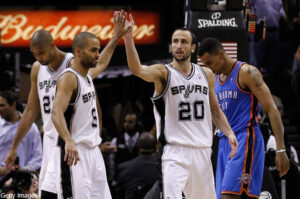 Obviously, the proper analysis of Game 1 holds the key to this OKC Thunder v SA Spurs prediction for Game 2. In the opener, OKC was playing some pretty good basketball, particularly on the defensive end, but it's probably their huge effort on defense that made them a bit tired at the end of the 4th quarter where the hosts just took over. OKC had a 9-point lead at the start of the last period (71-62), and had they kept their composure, they could have won that game comfortably. But that's what NBA Playoffs are all about. It ain't over till it's really over. The Clippers are a prime example of that as they overturned a 27-point deficit in the 4th quarter of their win against Memphis in Game 1 of the first round.
The Bench Squad To The Rescue
Duncan wasn't so great at shooting the ball finishing the game on 6-15 Field Goals, as did Tony Parker. However, it was the Spurs' depth that pulled them out with their role players rising to the occasion. Gary Neal hit two huge 3-pointers in the 4th quarter and ended up with 12 points on 5-9 shooting, while Manu converted on 3 out of 5 3-point attempts, and 9-14 FG to finish with his season-high 26 points.
Points In The Paint
Of course, you would expect for the Spurs to take their first home game. Some say that an NBA Playoff series doesn't really start till a home team loses. Spurs rarely get rattled by any point deficit, and they usually shift up a gear late in games. But what Thunder head coach Scott Brooks has to really be concerned about, is how his team got outscored in the painted area, where players usually get a lot higher percentage shots. Spurs scored 50 points there, compared to just 26 from OKC, so it's almost twice as much, which is huge in the Playoffs. And usually, OKC is the team that wins that particular contest in most of their games, due to Westbrook's constant penetrations, in combination with Durant and Harden. But that was not the case in Game 1, and I'm sure OKC will address that issue, which will be a huge factor in the most accurate Thunder vs Spurs betting pick that we are about to give you.
There are a lot of similarities between Manu Ginobili and James Harden. Both of them are left-handed players, similar in size and style, and play on identical positions. However, all the similarities end here, at least in Game 1, where Harden did not even get to the free throw line, while Manu took over in the 4th quarter when he didn't miss a shot and was rightfully elected as the MVP of that particular contest. For OKC to be successful and get into the 2012 Finals, James Harden has to play a much bigger role. He is one of the keys to this team, and obviously his production influences our Thunder at Spurs prediction. When asked about his lack of FT attempts, Harden responded: "Well, it affected me. Getting to the free-throw line and getting easy points definitely helps me. I just got to be ready. I've got to be aggressive and get to the basket to be able to finish in Game 2."
Thunder Have Major Room For Improvement
That is a fact which is very important for our Game 2 prediction of the West Finals between Spurs and Thunder. Serge Ibaka and Kendrick Perkins can be a lot more productive on the offensive end, especially Ibaka. Both of them ended the game with just 5 points. Westbrook had a poor performance shooting the ball, as he missed 14 out of his 21 shots, and he can definitely do a lot, lot better than that. As mentioned, Harden has to seriously step up in his man-to-Manu battle against Ginobili too.
Thunder at Spurs Game 2 Prediction: The Spurs are currently on a record-tieing run of 19 straight wins, includnig their last regular season games, and we feel it's about time for them to taste defeat.