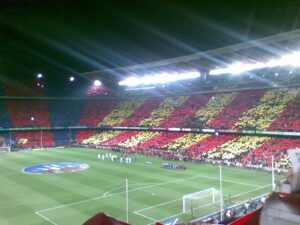 Giving an accurate Barcelona v Real Madrid prediction is never easy as anyone would tell you. At the current moment, these are the two best club teams in world football, no doubt about it. Barcelona vs Real is the name of the game this season and it's quite possible that these two will also battle up at the 2011 Champions League Final in Wembley, simply because they play football from another world compared to all the other teams in Europe. Not even Chelsea, Man United, Bayern Munich, Milan or Inter can really match with Barca and Real right now so what's absolutely certain is that football from the highest caliber deliverd by 22 players worth over 4 billion euros!
Yes, that's right! According to the Spanish "Sport" newspaper, when you sum up all the numbers from the release clauses on all 22 players that will start the game at Nou Camp tonight you get an astronomical figure of over 4 billion euros! There is no other football match in the world that can come close to this one in terms of the worth/value of the players involved. Not even in the Premier League, Seria A or Bundesliga, nor any other domestic derby in the whole planet. According to Messi's release clause for example, Barcelona would have to be compensated with 250 million euros should another club want to buy him. Iniesta, Villa, and Pique come next each  with 200 million euros as stated on their release clauses. Real Madrid have gone light years away in terms of these numbers as only Cristiano Ronaldo's release clause is stuck at 1 billion euros! So as strange as it might sound, Messi is four times cheaper than Ronaldo according to the numbers on their release clauses. But enough with all that math, let's get back to our Barcelona v Real prediction.
As we said already, this is the toughest game to call in football. These teams are so even that it's no wonder why our Barca v Real prediction is for a Draw! It's almost impossible to see either side losing this one. Still though, if there is a winner we favor the Madritista and we will explain to you exactly why that is.
In order for us to produce the most accurate Barca v Real betting analysis and prediction, we start by taking a closer look at the advantages each side has going into this game.
Camp Nou – As you can guess, Camp Nou will be jam packed for this one and it's interesting that only 700 Real supporters will be there and they will be seated at the highest sections of the stadium. So in terms of fan support and atmosphere, Barca has total advantage here and the crowd should really set the tone for Messi and Co.
Team Bond – Barcelona have been playing together for way longe than this particular Real Madrid side. Barca's core players have practically grown up together and have been playing alongside each other for their whole careers on both club and national level. We are talking about the Spanish backbone consisting of Valdez, Puyol, Pique, Xavi, Iniesta, Busquets, Pedro and now Villa. All of them except for Villa are products of Barca's youth system and have developed such a strong bond on the pitch that they can know exactly where each one is at without even looking. Messi is also product of Barcelona's football academy and the style of footbal they play is not something new – it has been developed since the Gruyff era with Stoichkov, Romario and Kuhman and now all of that is sucessfully being reproduced by Barca's current generation of players.
Big Game Experience – this Barcelona team won everything back in 2009 and have the necessary big game experience to handle the pressure that will creep in tonight. The Spanish backbone won the World Cup as well so these are natural winners that know all about performing on the big stage. On the other side, this particular Real Madrid has won absolutely nothing so far, despite their good start.
The Jose Factor – Love him or hate him but Jose has nothing to do with the ordinary. He does have a big ego and even bigger mouth but has all the titles to back it up. The man really is Special and he is already turning things around at Real. Real Madrid are finally starting to look like a top team under his strict tactics. They are an ideal combination of tight defense and great organization on the pitch along with explosiveness in attack.
Hunger for Success
– the main advantage of this young Real Madrid formation is their hunger for titles and glory. They are after everything that Barca has already won – Champions League title, Primera Division and Copa del Rey. Mourinho removed Real's icons in the likes of Raul and Guti and has replaced them with players that are top quality but have not won any titles so far – Ozil, Di Maria and Khedira are world class and yet have no medals to show for which makes them anxious for success. Meanwhile, you have to wonder if Barcelona's hunger for titles is not already fed having won practically everything in recent years. Iniesta, Xavi, Valdez, Puyol and Pique have won absolutely everything there is in football – from European and World Championships to Club World Cup, Champions League and Super Cup.
So after examinig the advantages each team has, we have to conclude that things are really close which is why we expect a draw in our Barcelona v Real prediction. Another important factor related to this Barca Real analysis is the results of past meetings. Stats show that Real have not won this derby for a long time now. The last 4 editions have all ended with a win for Barca. Perhaps it's about time for the Royal Club and its fans to taste some of that joy too.
10/04/10 PRD Real Madrid 0 – 2 Barcelona
29/11/09 PRD Barcelona 1 – 0 Real Madrid
02/05/09 PRD Real Madrid 2 – 6 Barcelona
13/12/08 PRD Barcelona 2 – 0 Real Madrid
Barcelona v Real Madrid Prediction: Each side has its own set of advantages and weaknesses. Barca will get a boost from the atmosphere at Camp Nou plus they know all about producing high quality football in big matches and have more experience. Stil though, Real are probably the side that's hungrier for success which should help them get at least a point here. Jose has proven in the past that he knows the proper tactics to stop Barcelona's style of play and won't be shy to deploy them tonight.


Final Verdict: Draw @ 3,60 or Over 3,5 @ 3,30
*It's also a good idea to bet on Over 3,5 goals in this match considering Barca's attacking style and the quality players Real have.