We resume our Seria A betting tips with this Napoli v Juventus prediction. It's rather strange to have such a big derby on a regular Tuesday night. The game was actually planned to be played earlier this season, but it was postponed, and yet to have it on Tuesday is not coincidental. The smart guys at UEFA and those that are pulling the strings know that it's important to keep people hooked on football, so they come up with big games practically everyday. Since we are in the business of providing the most accurate football betting predictions and NBA picks, we have to analyze everything and read between the lines. But back to the most accurate Napoli v Juventus prediction on November 29th.
Juventus have been on a great run this season. They are practically living the dream now as they are back on top of the Seria A after crawling their way back from the Giacoppoli scandal. It's evident that they are worthy favorites for the title. They have not even conceded a goal in their last two matches that included a derby victory against Lazio and a 3-0 trashing of Palermo. Prior to that, they defeated eternal rivals Inter at the Meazza, 1-2 FT. They also beat AC Milan this season, 2-0 FT. Our Napoli v Juventus prediction simply can't ignore the fact that the recent months have been just way too god for the bianconeri, and something has to bring them down to earth.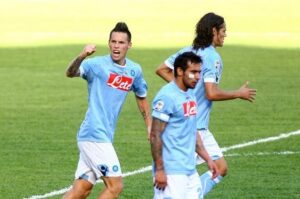 That something is called Napoli. Little proof is needed when you talk about the quality this team possesses. Take the game last week against billionaires Manchester City for example. Napoli showed that money is not absolutely everything in football, as they totally outplayed Mancini's boys. Cavani rediscovered his goal scoring touch with a brace in that game, and now he will be looking to do more damage against the league leaders. One of the best betting predictions for Napoli v Juventus is for Cavani to score at any time. Hamsik is world class, while Lavezzi is perhaps their most creative and unpredictable player in attack. As a matter of fact, our top Napoli v Juve prediction is that Lavezzi will Score At Any Time, which bet365 offers at the odds of 3,10. That particular trio can spur Napoli to a victory against any team on the planet. It's no coincidence that they trashed Inter with the classic 0-3 in Milano a month ago.
Another key to the most accurate Napoli v Juve prediction is the fact that the home side has not won for in their last three Seria A games. A defeat against Catania followed by two straight draws, with the last one coming thanks to a 90th minute equalizer from guess who – Cavani. On the other hand, Juve have won three straight matches. From a historical standpoint, it's interesting to note that Juventus have not won in Naples since the year 2000. Napoli v Juventus Prediction: It's about time for Juventus to taste defeat. The bianconeri have not lost a single match so far this 2011/12 season, and Napoli, in front of of a super excited crowd of over 80,000 mad people, is certainly the type of team that can stop their run. Cavani has rediscovered his form and Lavezzi and Hamsik are always a threat. Of course, Juve have plenty of class in their side too, with Matri, Krasic, a reborn Pirlo, Pepe, Vucinic, Del Piero, and all the rest. Therefore, we expect both teams to score in that game (Goal/Goal @ 1,80) and to have over 2,5 Goals in the end. Perhaps a 2-1 win for Napoli is on the cards (2-1 @ 9,50).
Betting Verdict: Napoli to Win @ 2,50; Both Teams to Score @ 1,80
*Latest Updates (@ 17:19 CET): Cavani has been ruled out with an ankle injury. This means that Goran Pandev would be given the chance to score his first goal for the club. A positive piece of news for fans in San Paolo is that holding midfielder Gokhan Inler has been declared fit to play.