This Orlando Magic at Miami Heat prediction represents one of the biggest match-ups in the NBA and it has been only 3 days since the new 2010/11 regular season started. It doesn't get any better than this as two of the best teams in the East go head to head in what promises to be a mega spectacle. Orlando and Miami are tipped as the main favorites to make it to the Eastern Conference Finals (along with the Celtics of course) so the best Magic vs Heat prediction is that we will see a very even basketball game that will go down to the wire.
When we at BetOnWins.com analyze NBA picks, we like to account for just about everything. Last night, the Magic opened their regular season and their new stadium with a convincing win against Washington Wizards. Van Gundy's men blew out the Wizards led by the Number One Draft Pick this year John Wall, and certainly pleased the sold out Amway Center. So it was a great night for the whole city of Orlando and another interesting fact is that the Magic ended the pre-season without a defeat and now look to just keep on going.
The key to this Orlando Magic at Miami Heat prediction is in the level of team chemistry. The Magic have a strong core that has not been changed over the past 3-4 years and we are talking about head coach Stan Van Gundy, super star Dwight Howard, play maker Jameer Nelson and SF/PF Rashard Lewis. They have been through a lot of ups and downs over the last few seasons, but the great thing about them is that they keep on fighting and believing in themselves despite the recent setbacks. Magic lost the 2009 NBA Finals against the Lakers and last year they got eliminated in the Eastern Conference Finals by Boston Celtics. But still, they keep on fighting even though not a lot of people or "experts" believe in Magic.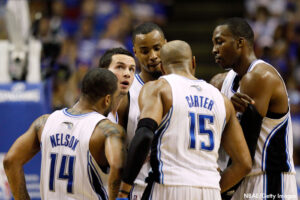 In other words, the Orlando Magic are much closer to the whole definition and meaning of the word "team" than the Heat right now. Van Gundy's players have been together for some time now, whereas the Heat are just starting their new project and have a long way to go until the really connect on the court and figure their exact roles. LeBron confirmed that by saying: "I think we'll need a little bit of time," James told ESPN. "It's definitely an adjustment for all of us, especially with D-Wade being out for so long (with a right hamstring injury). This is a new group still trying to get together and learn on the court."
See, a lot of folks in the NBA think that change is good and you need to re-form your roster each season, when it's the exact opposite. The teams that end up winning the Larry O'Brien trophy are the ones that have strong chemistry, experience and have developed as a group for at least 2-3 seasons. Both Lakers and Celtics are perfect examples of that. Miami might have their Super Trio in the form of Lebron, Wade and Bosh but they still have a long way to go until they really shape up as a team and gel. It will take at least another 2-3 months until we see the real Heat, because they are still figuring out things on the fly. All these facts are really important if you want to get an accurate Magic vs Heat prediction.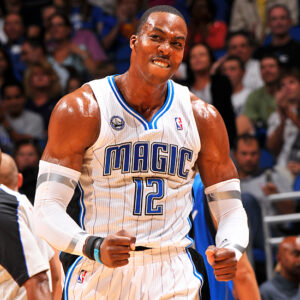 Another crucial element of this Magic vs Heat prediction and analysis is in the Center position. The biggest weakness of the Heat right now is their lack of height and mass under the basket. They don't have a strong center whereas Orlando have the best one in the NBA right now with D12. The interior is the Heat's biggest limitation and if Van Gundy manages to expose and exploit that weakness he will certainly go home happy with the end result.
If you look at the history of the NBA, you will notice that it's teams that are strong in the paint that succeed eventually. It's all about scoring, defending and rebounding in the paint. That's the key to title. Lakers are proving this with Andrew Bynum, Pau Gasol and Lamar Odom, and the Celtics are also following this scheme with Perkins, Garnett, Davies, and now Shaq and Jermaine O'Neal.
So there is no denying that the away team has a serious advantage in the paint in this Magic at Heat prediction. Another strong side of Orlando against Miami is that the Magic have a much deeper roster and that's what really matters when you are reviewing and analyzing NBA picks. Miami do have plenty of firepower in their starting lineup with Bosh, wade and James, but it's their second unit that comes under question and that's a major factor when going against the best teams in the NBA.
The main weaknesses of the Heat completely coincide with Orlando's biggest strength and we are talking about Miami's lack of depth and their issues with the point guard position. Van Gundy can rely on experienced and top class players like J.J. Reddick, Quentin Richardson, Vince Carter, and Mickael Pietrus. All four of them can certainly handle James and Wade, while in the middle they got Dwight Howard and Miami just won't have a way to stop him, because neither Bosh or Haslem can cope with him physically. That's why BetOnWins.com favors the visitors in this Magic vs Heat prediction on the 29th of October.
Orlando Magic at Miami Heat Prediction: Magic are the better team with a much deeper roster and superior presence in the paint. That's why we favor them to win tonight against all odds.
NBA Picks: