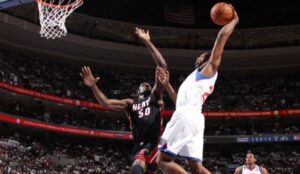 Today's best NBA betting prediction comes from the game between the Miami Heat and Philadelphia 76. The Sixers have shaped up as one of the nicest surprises in the East. Doug Collins should get a "Coach of The Year" aware if his young team continues on this path. They have an impressive 12-2 record at home, and they defeated two title contenders in the process as Orlando were smothered defensively, while the Bulls got a taste of their own medicine this last Tuesday as they went down in Philly by nearly 20 points. They will certainly make it difficult for Miami.
If there is one team that's certainly capable of putting an end to Philadelphia's run of 6 straigh wins at home, that's got to be Miami. History serves as the key to this Heat at Sixers prediction of ours. The stats are always important when it comes to accurate NBA predictions and sports picks in general. In that regard, the two opponents here have identical records with both having won 16 out of 22 games, so far in this hectic season.
We are going to be upfront with our Heat at Sixers prediction for February 3rd. Basically, we expect the Big Three to prevail, as they did in the Playoffs, and as they have been doing it to Philly a lot lately. Miami matches up really well against Philadelphia. Another crucial moment to this accurate Heat at 76ers prediction from the NBA is that LeBron and Co are coming here after a dissaponinting loss against the Bucks after they had a 20-point lead. They usually respond well to defeats.
Miami destroyed the 76ers in their first meeting of the season; even without the services of Dwyane Wade they won the game 133-92. Wade is averaging just over 30 ppg against this opponent, and we expect him to have continue this run. LeBron has been amazing this season, producing almost a tripple-double every night, and Bosh has improved seriously.
Heat at Sixers Prediction: It will be a tough match for Miami to win, but that's why the odds on them are not bad. Bet365 is offering them at 1.85 right now, which is as good as you'd get on probably the league's best team.
Betting Verdict: Miami to Win @ 1.85