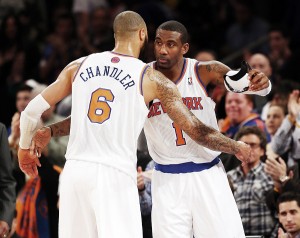 We would like to start off the New Year with the best NBA pick on January 3rd, 2013 featuring this Spurs at Knicks prediction. The New Yorkers started the season with a bang, but things have gone south as of lately. They still own an impressive home record of 12-3, but the worrying fact is that those three losses came in the last five games at the MSG. And in all these defeats, they trailed with as many as 20 points at some stage of the game. Amare made his long anticipated return in their last game against Portland, but they ended up losing that one as well, despite Carmelo tying is season best scoring output of 45 points. And here come the Spurs, which as every NBA fan knows, are one of the best teams in the league, if not the very best one. So one of the most accurate Spurs at Knicks predictions is that it's going to be a serious challenge for the home team to get the W here.
Stoudamire is not exactly known for being a top defender or a rebounder, and these are the stats where Knicks need serious improvement. As coach Woodson put after the 105-100 defeat against the Blazers, "Forget the offense, we scored enough points. Defensively, we are not where we were earlier in the season. You can't keep spotting teams 20-plus point leads and think you will come back." So as of this very moment, it does not look like the return of Amare will give this Knicks team the boost they need, because what they lack now is defense and Stat has made a career on the offensive end. Another factor about tonight's best NBA betting pick is how Melo and Amare will coexist on the floor, as during their two seasons so far, they never managed to put it together. To add to their worries, starting point guard Raymond Felton is expected to miss the entire month of January with a broken index finger, and he has been a real revelation for them this season.
Things look in the exact opposite way for the Spurs who have been performing like a well-oiled machine from the very start. Tim Duncan has been turning back not just the clock, but the entire calendar, as he's been January 3rd, 2013. To add to coach Pop options, the Spurs have been boosted by the recent returns of Steven Jackson and Kawhi Leonard. Danny Green is continuing his outstanding long-distance shooting from last year. The only piece of bad news for them is that backup point-guard Gary Neal is listed as day-to-day, so he will be a game-time decision.
One of the most accurate NBA betting predictions for today is that this game between Spurs and Knicks will be a real three-point fest, given how reliant both teams are on their perimeter shooting. If your bookie is offering you a line on the number of three pointers in the game, I would suggest that you go for the Over. Melo, Novak, Kidd, Rasheed Wallace and J.R. Smith are the main guys for the home side that often hit the target from long distance. On the other end, the Spurs got Leonard, Green, Ginobili, Jackson, Gary Neal, and even Parker. All these guys can heat up pretty quickly, and that could cause for the whole game to go over the line for Total Points, currently locked at 206,5.
Betting Verdict: Knicks To Win @ 1.95 on Money Line.