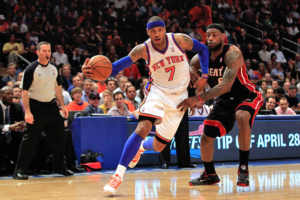 The NBA games on Sunday have shaped up as one of the best matchups as the regular season schedule has been made in such a way that fans from all over the world get the chance to witness some of the best players in today's game, and March 3rd 2013 is no exception as we bring you the best Miami Heat v NY Knicks prediction. This game is more than just LeBron v Melo. It's about prime time, it's about winning streaks and it's about getting into the best position for the post season. Fans at the Garden are about to see another classic.
It's lunch-time fixture in North America as the game is set to start at 13:00 EST, making it a perfect dinner party for fans in Europe though. The players are used to these early starts, and as D'Antoni put it last week, "one usually performs their best in the morning". As we mentioned already, this Heat at Knicks prediction is about winning streaks, and in that regard the Heat are going into this contest looking for a 14 straight win, which would set a franchise record. Their last game – a win on Friday at home against the Grizzlies marked their 13 straight win, but truth is that they had to go through a lot of difficult moments and luck as played its part during this remarkable feat. The Knicks have a much more modest winning streak of 4 wins in a row.
Lebron James finished what was probably the best month for an NBA player in the history of the game as he connected on over 60% of his shots during the month of February, hitting exceptional averages of nearly 30 points, 10 rebounds and 10 assists per game. He is averaging 33.6 points in his last eight regular-season games at the Madison Square Garden, but had just 23 points on Nov. 2 as the Knicks held Miami to its second-lowest total of the season in a 104-84 victory.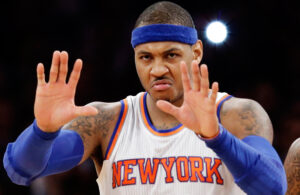 In light of this most accurate Miami Heat v New York Knicks prediction, we have to examine the strengths of these teams as we normally do when we deliver you the best NBA betting picks every single day. There are no major injury concerns for eaither Woodson or Spoelstra. Raymond Felton has been getting back to this best days as a Knick, after missing over a month with a finger injury on his shooting hand. Melo has been playing in MVP-mode all season long. Tyson Chanlder had a career-best 28 rebounds in the team's last game – a win at home against the Warriors on Thursday. JR Smith has done a great job providing a spark off the bench. The only guy that has been somewhat quite lately is Steve Novak whom everyone is accustomed to seeing hitting 3-pointers like rain drops. The Knicks will surely need their 3-point game to be on point against the stingy Heat defense.
Miami Heat v New York Knicks Prediction: To get our betting pick for this game, register here.