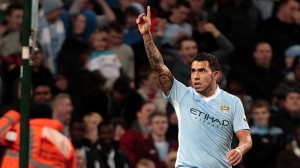 It's the real title decider in the English Premier League as the Manchester derby has never been any bigger than this, so we have prepared for you the best City v United prediction. City, who have not lost a league match at home all season long, are now trailing the Reds with just three points with just two rounds left after that one. A win for City will put them back at the top on the virtue of their superior (and supreme) goal difference. A draw will leave things pretty much as they are, but given that United have the easier fixtures left (at home vs QPR and away to Sunderland), it would essentially mean that City's chances are almost over. Obviously, a win for United will guarantee, although not mathematically, their 20th Premiership title. So what's going to be? We provide the answer to that in our Man City v Man United prediction for April 30th.
It's only right that everyone is looking to get the most accurate football betting prediction for today, April 30th. We have it already, but we can't just give away our inside information accumulated through years of experience for free. Those of you that want to get the best prediction for the Manchester derby will have to sign up for our 10-days pack at the price of just 10$. You will get loads of winning betting tips during that period, while other sites charge over 100$ for a bad pick.
Although Mario Balotelli is once again available after serving a 2-match suspension, it's expected that Mancini will put his trust in the Argentine duo of Tevez and Aguero who have been quite impressive lately. In their 304 minutes together, Aguero has scored 7 goals, while Tevez has 4. Their best defender, Micah Richards is also back after nursing an injury. He is expected to start at right back, with Clichy on the left.
A big factor about this Manchester City v Manchester United prediction is that the Citizens won the fist season meeting, at Old Trafford, with the incredible scoreline of 1:6. No team in the Premier League has won a game after conceding 6 goals in the reverse fixture. They way City dominated that game makes you consider them as favorites to get the win at home.
City are expected to play with a trio of strikers upfront composed by Silva, Tevez and Aguero. Ferguson should opt for a more defensive tactic with Rooney as a lone striker, Yaya Toure, Nasri and Gareth Barry should be pulling the strings in midfield.
Of course, no City v United prediction can be complete unless we examine the lineups of both sides. United will opt for a rather conservative formation with Rooney as a lone striker, supported by Nani and Valencia on the wings. Scholes, Chi Sung, and Park are expected to play in midfield.
Betting Verdict: Man City to Win @ 2.10