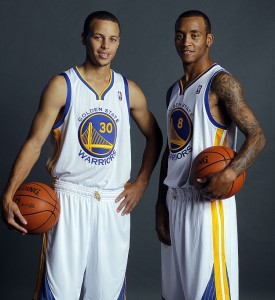 The Golden State Warriors are one of the most underrated and yet most promising young teams in the NBA. They have the most productive backcourt in the league featuring Monta Ellis and Steph Curry each one capable of dropping 30+ points per game and tearing up any defense. What has made the Warriors even more fun to watch this year and better in terms of winnig ball games is the addition of big man David Lee. This trio makes people in San Francisco go crazy about basketball once again and that's totally understandable considering how good and talented they are. Up against them tonight will be the San Antonio Spurs.
Our pick is for the Warriors to beat Spurs and the odds are extremely good – 2,65 on Money Line! That means that even if the Warriors win in Over Time you still get paid. There are a lot of reasons behind this particular betting selection and we already explained the first one – Curry, Ellis and Lee are a fast and furious trio that's almost impossible to stop.
The next factor is that the match will be played in San Franciso, California at the Oracle Arena. The Warriors are really though to beat at the Oracle Arena. They feel really comfortable in their shots over there and the Spurs will get a chance to learn that tonight. What's really interesting is that Spurs are the only undefeated team on the road in the NBA this season which is almost as amazing as the league itself! Spurs will get their first road loss tonight!
Monta Ellis is one of the NBA's leading scorers averging 25.0 PPG on nearly 50% shooting from the field and also dishes 5 APG. He is shooting even better at the Oracle Arena where he is currently posting 30.0 PPG this season. His teammate and USA Basketball member Stephen Curry is just as productive as Ellis averaging 20 PPG and 6 assits.
David Lee was the man who Knicks had to trade away in order to get Amare, but if you look at these two players they are pretty much on par.During his last season in New York, David Lee averaged 20.2 PPG and 11.7 Rebounds per game! That's a double-double every night and combined with his energetic style of play, it's no wonder why he became a fan favorite. However, Knicks' management decided to trade him this summer in order to free off cap space to acquire Stoudemire.
Lee made an interesting comment regarding his performances this season: "First of all, I know we can get some wins and beat some teams. I told you I wanted to be judged on wins and losses and so far that's going pretty good when I'm in there. I just need to find a way to stay healthy and keep helping our team."
But the list of talented players on the Warriors' roster doesn't end here. They also have one of the hottest 3-point shooters in the NBA right now – Dorrel Wright. Wright scored 9 threes in just 12 attempts in Golden State's last game which was a win in Minesotta against the T-Wolves. He is currently averaging 16 PPG and shooting 45% from 3-point land.
When it comes to top NBA betting picks and tips, it's all about making a good connection between historical match ups among the respective two teams, current form, list of players, schedule and other elements. This particular Spurs at Warriors prediction has the makings of a winner. The Warriors have lost 8 in a row agaisnt Spurs so it's about time for this trend to stop!
Spurs at Warriors Prediction: This is the best betting pick from the NBA tonight! The Warriors will win it and deliver Spurs their first loss on the road!
Bet On Warriors to Win @ 2,65

Check our other NBA picks for tonight:

Trail Blazers at 76ers Prediction
Lakers at Grizzlies Prediction