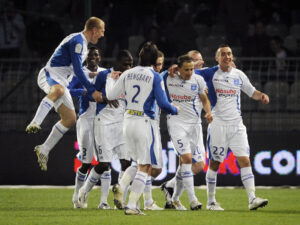 Today we have the big title decider in France's League 1 as the second-placed Auxerre host league leaders Marselle. A lot of money can be made with our free betting advice on this game. Auxerre already won the first game of the season between the two sides and it was an impressive 0-2 away victory at the Velodrome. So they will be feeling super confident in their ability to defeat Marseille once agian and blow the title race wide open.
If Auxerre do go on to beat Marseille tonight, they will have absolutely real chances of winning the League 1 title as they are currently just 5 points behind thus a win here will cut the deficit to just 2 points with 3 rounds remaining.
So it's all or nothing for Auxerre in front of their own supporters. Here is what their head coach Jean Fernandez had to say on that game after their 3-0 victory against Toulouse last Saturday:"Next Friday we take on Marseille at home in front of a sell out crowd. It's a great game for our players who deserve it."
A big factor working in favor of Auxerre is the fact that they have less to lose compared to Marseille as they are the clear underdogs here and no one expected anything for them at the beginning of the season. And in front of a sell-out crown, they will certainly fancy their chances of winning tonight! The last time Auxerre won League 1 was back in 1995/96. Auexerre is a small French town with a population of just 50,000 people and yet 22,000 of them will be at the stadium. The entirely city is going crazy about the game.
It's about time for Marseille to drop some points. They have 7 wins in a row which is incredible by any standards, especially for them. On top of that, they haven't lost a match in League 1 since 30th of January, so we are talking about an undefeated run of 13 straight games.
BetOnWins Free Football Pick: It's surely a good idea to bet On Auxerre to Win this game as the odds for a home win tonight are very good as bet365 offers 3.25 but the more certain prediction is to bet on Hendicap 1:0 is 1.53 which is definitely a sure bet!