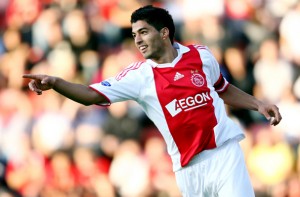 The football season in Europe is slowly getting underway as tonight the Holland Super Cup will be decided so we provide you with our Ajax v Twente prediction as these are the two teams that will battle for it. The match will be played at the Johan Cruijff Schaal stadium so neither team will have an advantage in this particular aspect. Twente who are coached by the Englishman Steve Mclaren have been one of the best sides in Holland for several years now thanks to their attractive attacking brand of football, good organization on the field and some really talented individuals. What's up with Ajax though?
Quite naturally, in our Ajax v Twente prediction we examine the form of both sides. Prior to this season, everyone thought that some exciting times are finally in store for the Amsterdam-based outfit but after the disappointing performance against PAOK in the Champions League qualifier that ended in a 1-1 draw, it looks like it's the same old story. Ajax has plenty of skillful players in their roster but somehow always manage to live up to expectations in recent years.
They are now coached by Martin Jol who just like in his spells at Tottenham and Hamburger, isn't proving to be much of a coach. Ajax played an impressive friendly against Chelseas beating the Londoners 3-1 and they did play some pretty good football, but then when it mattered most, they failed to a 1-1 draw at home with Greek side PAOK. And getting into the Champions League should be the main concern for Ajax, because that's where all the money and glory is at. That's why they just might not be totally up for this Super Cup encounter as they have the important away leg coming up next week .
The attack is where Ajax is the strongest with Luiz Suarez being one of the most in-form players right now. They also got Mounir El Hamdoui from AZ. But their defense is full of holes in it so Twente should take advantage of it. That's why our sports betting pick here is for both teams to score.
Ajax v Twente Prediction: Bet on Goal/Goal as both teams should score in this Super Cup Final and bwin offers this pick at the odds of 1,55!
Ajax Amsterdam – Twente Enschede Will both teams score in the match?
Pick: Yes