A midweek round of the Italian Seria A is being played out today, so that's where our best football predictions are coming from on October 31, 2012. This upcoming Saturday is the Derby D'Italia between Juve v Inter, and now both clubs would be looking to get all three points, so they can enter the big game on a high note. But up against them are a couple of traditionally tricky opponents as Sampdoria travel to Milano, while Bologna will play their first game at Juve's new stadium.
Inter v Sampdoria Prediction
Inter have been on an impressive run lately grabbing seven consecutive wins in all competitions. This has propelled them to the tops of the Seria S standing trailing second placed Napoli by just a single point (22 to 21), while Juventus are first with 25 points, still on their incredible run of 47 consecutive games without a defeat.
In Inter, what's clear is that club president Moratti has decided to back down on his traditional crazy summer spending, and the direction he is going after is developing the youth system and generally trying to rely on younger and perhaps less known players that have potential. The Nerazzurri fans have not seen a single big transfer ever since the club won the Champions League in 2010. It could be that the Italian petrol boss has finally fulfilled his ambition of winning Europe's prime trophy and now he is much more settled and patient, which is not such a bad thing after all.
Stramaccioni is a coach who fits that whole idea perfectly. He was Inter's youth team coach and actually guided them to the trophy in their league. Snejder is still missing, Coutinho and Stankovic are also out injured, so the Black and Blue are short of creating spark in midfield. That will allow Samp to create some chances at the Guizzepe Meazza tonight, which would lead to a Goal/Goal type of game.
Betting Verdict:Goal/Goal @ 2.00

Juventus v Bologna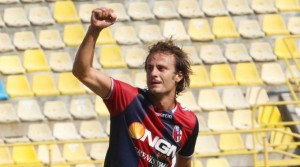 As mentioned, Juve have been on a crazy for the past two years, recording 47 straight games without a defeat. Basically, they completed all 38 games of their last title-winning campaign without a defeat, and now they are with 8 wins and a single draw in the first nine league games. They have played superbly at the majority of games, but referees have played their part too. Just a couple of days ago we saw another perfect example in their 0-1 win at Catania. The home side had a fair goal disallowed for "offside", then Juve scored from a real offside position and the ref gave a red card to a Catania player practically earning the Bianconeri their win.
All these situations have been in favor of Juve have really turn the media attention back on them in terms of all these refereeing scandals. That's why we expect a tougher game for them against Bologna tonight. Despite the odds on the Turin giants being just 1.22, at least Bologna should score here. The Goal/Goal is definitely worth the shot at 2.50. The visitors have a nice duo of Gilardino and Diaminti up front, and these two tricky Italians certainly know how to put one past Buffon, and they will have their chances here.
Betting Verdict:Goal/Goal @ 2.50

Lazio v Torino Prediction

Lazio takes on Torino at home without their two most influential players in midfield. We believe the scene has been set for a surprise result here. Torino have not won against Lazio at the Olimpico in Seria since 1993. In their last game, Lazio had both Hernanez and Ledesma sent out with red cards, so they are now missing through suspensions. But the reality is such that without these two players in midfield, it would be difficult for the hosts to string a series of passes and get some clear chances to score. Meanwhile, Torino are not a bad side. They also had a red card in their last game – at home to Parma and that lead to three goals from Parma towards the end of the game. However, they also had a 1:5 win at Atalanta a month ago.
Betting Verdict:Double Chance X2 @ 2.00