This Wednesday night, April 4th, is a huge day for basketball fans worldwide as no less than 12 games will be played around the NBA, and there are some pretty big ones. Without a doubt, the biggest game is this OKC Thunder at Miami Heat prediction – arguably the two best teams in the league right now. But that's not all – on the West coast, we've got the hottest city rivalry in sports these days with LA Clippers now a real factor going up against Kobe and Co. We break it all down in tonight's edition of our BetOnWins' best NBA betting picks and predictions.
Miami took a real good punch in the face in Oklahoma last week. Lebron had only his second career game without a single assist in their next defeat that came in Boston! He did show his main weaknesses – going mute in big games and crunch time. James was simply playing without confidence and any aggressiveness, while Bosh was equally ineffective. On the other end, Thunder's Big Three version was doing whatever they wanted, playing with loads of energy and effort that resulted in over 20-point difference at certain moments of the game. Can the Heat fans be optimistic going into the rematch – we provide the answer to that in our Thunder at Heat prediction for April 4th.
An accurate NBA betting and spreads analysis does point out that OKC are the better team here. They are younger, have fresher legs, and are more energetic. Simply put – the Thunder have more hunger than Miami, and actually most NBA teams for that matter.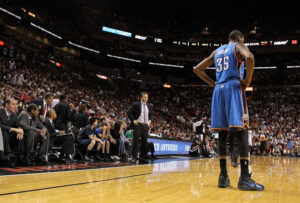 Durant is the best scorer in the league, probably better than Kobe himself, because Kobe wasn't scoring as much in that age. KD already has two scoring titles under his belt and yet he is just 24 years old and playing only his fifth season. He is quite tall, and most people don't actually realize that. He is listed at 6-9, but he is probably 7, and he has those long arms making almost impossible to guard. Along with Russel and James Harden, OKC fans have plenty of reasons to feel good about their team.
In fact, the best and most accurate NBA prediction you can get is that the Thunder will become champions either this season or the next. They have a great coach, long bench, a well balanced and united roster filled with quality players.
But this Thunder at Heat prediction is also a clash of cultures and styles. Oklahoma is a village compared to the amenities Miami has to offer, where it's all about the glamour and glare. Meanwhile, Durant, Westbrook and the entire Thunder organization like to keep a lower profile, stay under the radar as much as possible, and avoid all the hype and noise Miami is attracting. I personally admire Durant's choice to remain in OKC, play in that smaller market and be a part of something special that's build from the ground up. That's totally in contrast to Miami's approach of trying to get success quickly bringing in already established players, rather than developing them.
But back to the most accurate Thunder at Heat prediction, there is no reason not to think that a repeat of the previous outcome between these teams is quite possible. Miami's long record of consecutive home wins is on the cards and that will be a motivational factor for OKC, who will also be looking to bounce back from a disappointing home loss against Memphis a couple of days ago. D-Wade is listed as questionable for this game, with a bruised knee.
Betting Verdict: To get our betting pick for this game, sign up for our package.