There is no doubt that today's top NBA pick comes from this Lakers at Clippers prediction. This is one of the hottest city rivalries in all of sports right now, and it's certainly a special game for the players too as they know that a bit more is at stake here than just the win in a regular season game. Kobe has always had a thing for the Clipps, and with the entire Laker nation needing a lift right now, the scene is set for a spectacular battle between two of the main title contenders in the NBA. On the funny side, we can easily say that the most accurate Lakers at Clippers prediction for January 4th, 2013 is that all the Hollywood celebrities will be in attendance at the Staples Center tonight.
Just when it seemed that Lakers have turned the corner and have finally started climbing their way up in the Western Conference standings, they made several steps backwards recording two defeats in their last three games. Prior to that, they managed to post five straight victories with Nash getting back on board. Things quickly went downhill and they followed this nice run with defeats at Denver and at home versus Philly with a win against Portland in between. It has been a really difficult season for the Lakers having changed three coaches thus far. They started with Mike Brown, sacked him with just six games into the season when they never should have hired him in the first place, then his assistant stepped up as a temporary replacement till surprisingly Mike D'Antoni was announced as head coach of the Purple & Yellow Circus. It's normal that with all the moves they made in the summer and all the coaching shake-ups, Lakers are still looking for an identity.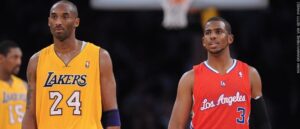 Tonight's NBA pick is all about the clash of contrasting basketball fortunes, as while the Lakers have been struggling all the way, the Clips have posted their franchise-best record of 17 straight wins, becoming only the third team in NBA history to win all of their games in one calendar month. It was a remarkable achievement, but it came to an end at the start of this year as they lost on their visit to Denver on January 1st, 2013. Then they lost their next game at Golden State, so you can definitely say that this new year has not been kind to the Clippers. So an interesting moment about this Lakers at Clippers prediction is that both teams will be looking to turn things around and get out of their respective funks.
The analysis of the personal match-ups is one of our main principles when making the most accurate NBA betting predictions on a daily basis. Kobe has personally admitted that he loves playing against the Clippers and that can only spell trouble for them. He has said that playing at the Staples with all the colors changed for the Clips and their full crowd is his second best place after the Madison Square Garden in New York, so one of our free Lakers at Clippers predictions for January 4th is that he will go for over 30 points, probably 40 plus.
An interesting matchup in this Lakers vs Clippers prediction would be the battle of the centers Dwight Howard and DeAndre Jordan. Both of them are super athletic, but can't shoot any free throws. The winner here will seriously influence the end result, and while Howard has been struggling trying to get back to his physical best, Jordan has been living up to his 50 million dollar contract he signed during the summer that will extend his stay at Clipper-land for another 4 years.
One of the most interesting aspects of this NBA betting prediction for tonight is the battle at the point-guard spot. Two of the best in the whole history of the game in this position – Chris Paul and Steve Nash go up against one another. Regardless of how they finish their careers, they will definitely be in the Hall of Fame one day. Few people know what Nash is the only player to have played that many playoff games without ever making it to the NBA Finals, but that could change in the next two seasons. That's what this move was all about. Another interesting fact about Nash is that he is a 90-50-40 type of player – he is shooting 90% from the Free Throw line, 50% from the Field, and 40% on Three Pointers. That's an incredible career average, and it goes out to show how unique he is as a player, and how intelligent he is in his shot selection and decision making.
Betting Verdict: To get our NBA betting pick for this game, register here.