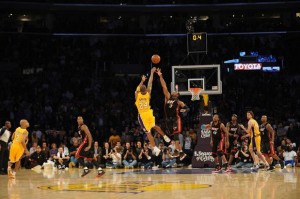 Perhaps the biggest derby in the NBA is that match between Miami Heat and LA Lakers as these are the two most watched teams in the league, and with the largest fan base worldwide. It's going to be a massive game at the Staples tonight, and as per usual, we at BetOnWins are about to provide the winning betting picks in advance. There is a lot of hype surrounding this game as usual, but this time around, things have gotten even more interesting because of what happened between Wade and Kobe at the All Star game.
Kobe Bryant – The Baller Behind the Mask
Dwyane Wade broke Kobe's nose with an unnecessarily hard foul at the All Star game. The medics had to come on the court to stop the blood pouring from the nose of the Lakers star. It turned out that the situation was even worse, as Kobe had a concussion. This whole play drew a lot of media attention, quite normally. Wade's foul was just too hard, especially for an All Start game where the players are just trying to have fun.
As a result of this, Kobe has been playing with a protecting mask. The masked LA hero has been in stellar form since the incident. Apparently, wearing this mask has not hurt his game even slightly. Perhaps, it has made him even more focused and motivated. And tonight, Kobe will have this extra bit of incentive to get back at Wade and Miami. That's a major factor for this Heat at Lakers prediction, and in our opinion, it will serve as an advantage for the players in purp and yellow, and Bryant in particular. He is always pumped up and eager to complete against James and Wade, and Heat above all as they are the team to beat since their Big Three was formed. But now, Bryant and all the Lakers fan in the Staples Center will be totally crazy about this game and nothing but a home win would do.
The Match Ups
It's going to be a highly balanced game that will go down to the wire and be decided in the last possessions of the 4th quarter. It's obvious that LA has an advantage in term of the big men as Miami does not have a real answer for their twin towers in the likes of Bynum and Gasol. However, Miami's advantage is on the fast breaks and the higher tempo of the game, which LA will be looking to slow down and turn this game into a half-court one. If Lakers succeed in slowing down the game, this will play a huge role in their potential win.
Heat at Lakers Prediction
What's certain that a game featuring Kobe, Lebron and D-Wade all under one roof is bound to be a classic. The Black Mamba will again be wearing the protective mask, and Wade apologized for the incident and said it was not intentional, it's highly likely that the fans in Hollywood won't be applauding his plays tonight. Bryant's teammates might try to get back at Wade as well. At the end, we predict a Lakers win, as they have not enjoyed a great deal of success in their last meetings against Miami. In fact, they have not defeated them ever since Bosh, Wade and James came together, so they will be looking to stop that bad run. Additionally, Bosh who has missed the team's last two games due to family reasons is questionable for this one as well, and if he does not play, you can go all-in on the Lakers to win.
Betting Verdict: Lakers to Win @ 2.40