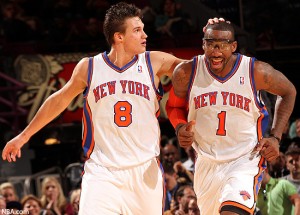 It's one of the biggest derbies in North American basketball as two of USA's largest cities go head to head drawing millions of fans to the TV screens, not to mention that the 20,000 that will be at the United Center. We were correct with the two NBA picks we gave you last night and we are looking to extend this run with a bet on the Knicks to win here.
Of course examining the current run of both teams is as always the key to accurate NBA predictions. In this particular aspect, these two teams are on the exact opposite end of things with Bulls having won their last two games, while Knicks are on a run of two straight losses. These two wins for the Bulls came at home against Detroit Pistons and then a strong Portland Trailblazers side, so Derick Rose and his teammates are starting to prove they are a force to be reckoned with this season. However, they are a young team that's still developing with all the newcomers they brought in over the summer, so consistency is something they lack. That's why it would be normal for the Bulls to lose tonight after having won two in a row.
Furthermore, Chicago are still playing without their biggest acquisition over the summer and their main hope for improvement compared to last year – Carlos Boozer. Boozer is a power forward and is supposed to strengthen up their roster, provide rebounds and inside presence. Boozer averaged a double-double as a Jazz player with about 20 PPG and 10 boards so he will certainly be a great boost for Chicago one he is back and settles in. But, he won't play tonight and his absence will provide New York's star player shine big.
We are talking about Amare Stoudemire, the 100 million dollar man, one of the best forwards in the NBA. But he is not the only reason for hope for Knicks fans. Coach Mark D'Anthony was acquired and he was in charge of the Phoenix Suns when Amare was playing there and as a coach he is known for preferring a run-and-gun type of style in which the main focus is on the offensive end. Should be a high scoring game this one and these two teams should be able to cover the 200 points total.
But our betting tip is for a Knicks win against the Bulls, because the New Yorkers have seriously improved this season and their style of play coincides with Chicago's weakness in defense. The Knicks have lost their last 4 visits at the United Center and it's about time for this negative trend to end. Historically speaking, New York have won just 2 of their last 18 trips to Chicago!
Another factor working in favor of the Knicks is that they will be well rested going into this game as their last game against Orlando in MSG was canceled because of some problems with the arena.
Knicks at Bulls Prediction: Bet On the Knicks to win this game and the odds for them on Money Line are definitely worth it!