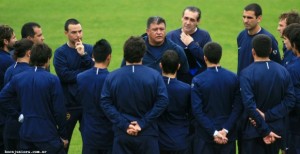 Argentina's Apertura is now underway and after 4 matches played, Boca find themselves in the 13th spot with just one win while San Lorenzo are 5th in the standings without a loss so far. The safest Boca Juniors v San Lorenzo prediction is that we are about to see a real spectacle at the Bonbonera tonight and both teams have their strong sides so it should result in a well-balanced affair.
Of course, BetOnWins is all about accurate football predictions and betting tips and from that perspective, we can't help but examine the odds provided by the major online bookies for this game. Boca are considered as favorites to win mostly becuase they are playing in front of their own fans. However, we can't deny that they have been going down in the past two seasons changing one coach after the other and lacking any stability or trophies. Riquelme won't be available for this game and back when the club was playing good and winning on a regular basis, he was the one pulling all the strings and running the whole show.
Last Sunday, Boca got their first win of the season beating Velez 2-1 but only held to lead in the final minutes of the game by chance. Sarsfield could've equalized but missed a few chances at the end. Still, Boca got all 3 points and now, playing their second straight Primera Division match at home, they will be looking to get another victory and climb up the table.
The odds for Boca Juniors to win against San Lorenzo are 2.10 at most online betting companies like bwin and bet365. The most popular Boca Juniors v San Lorenzo prediction is for the home side to win but it won't be an easy ride for them.
Claudio Borghi has called up the following 20 players for this fixture: Goalkeepers: Cristian Lucchetti and Maximiliano Scapparoni; Defense: Christian Cellay, Juan Manuel Insaurralde, Matías Caruzzo, David Achucarro, Leandro Marín, Clemente Rodríguez; Midfielders: Nicolás Colazo, Cristian Erbes, Gary Medel, Sebastián Battaglia, Matías Giménez, Damián Escudero, Cristian Chávez, Nicolás González; Forwards: Martín Palermo, Lucas Viatri, Pablo Mouche, Sergio Araujo.

The best Boca v San Lorenzo prediction is to bet on Both Teams to Score, because the odds are just about as high as for the home win. Goal/Goal is rated at 1,83, while as we said Boca to win is offered at 2,10. The thing is that Boca will certainly score at least once as they will be super motivated to get the 3 points in front of their home fans. However, San Lorenzo are a very dangerous opponent that's in better form right now and find themselves on top of them in the league standings so they should be able to also score a goal in this match.
Boca Juniors v San Lorenzo Prediction: Bet On Both Teams to Score, because they consist of quaity players with lots of skills.
Pick Goal/Goal @ 1,83