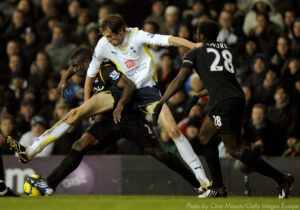 This game between Manchester City and Tottenham is the ultimate Champions League spot decide as both teams go head to head fighting for the last spot giving rights to play in Europe's premier competition next season. A lot of money and club interests will be involved in this thrilling affair between two clubs who have taken full advantage of Liverpool's disastrous campaign and now will have to battle on who will break into the Top 4 in the English Premier League.
When it comes to Manchester City vs Tottenham predictions, it has to be made clear that it such a tight game anything can happen in it. It could turn into a goal fest but it could as well be a 0-0 draw. It's a though game to call for both betting and predictions. What's certain is that Man City have their destiny in their own hands and if they win they win this game they will pretty much guarantee CL qualification which is enormous importance for the club and its owners who have invested so heavily in building a competitive squad. City are definitely well equipped to win this game so a very good  Manchester City vs Tottenham prediction is bet on a home win.
But the hosts have several major problems before this game. The main one was felt in their last game aganist Aston Villa – the absence of Shay Given. Shay is one of the best goalkeepers in the world and City don't have an adequate replacement for him. Marton Fulop who started this last Saturday (which we accurately predicted as Goal/Goal), made some silly mistakes and you can tell he wasn't match fit. A very interesting fact is that Tottenham are indeed Fulop's former club but he never even played a single game for the Londoners. Another factor that has to be taken into account in order to come up with accurate Man City Tottenham prediction is that Joleon Lescott misses the remainder of the season due to an injury so City will have big problems at the back. The only positive squad news for them is the return of midfielder Gareth Barry.
The main strength of this Manchester City team is their attacking department and with players like Tevez, Bellamy, Adebayor, Andrew Johnson and Santa Cruz, they are capable of scoring at any minute.
Tottenham on the other hand have some problems of their own. Their main goalkeeper could also be out as Heurelho Gomes pulled up by the end of last Saturday's 1-0 win against Bolton. The ones certain to miss are key players Niko Kranjcar, Jonathan Woodgate, and Vedran Corluka.
Manchester City – Tottenham Prediction: Considering the defensive problems of both sides and how powerful they are in attack, it should be a high-scoring affair that could even go over 3,5! But if you want to bet on wins, then pick Goal/Goal.