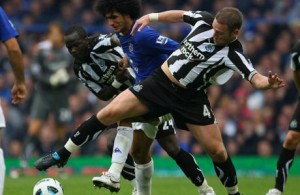 The football action is about to kick off all over Europe this weekend, and as usual, we have prepared the most accurate betting picks for you. There aren't any big derbies in neither one of the top leagues – EPL, Primera, Seria A or the Bundesliga, but still, there are some good games to follow. We start with the early Premierleague match featuring the unbeaten Newcastle taking on an underperforming Everton side. Could this be the game to stop Newcastle's impressive run?
Newcastle v Everton Prediction, 1345 CET
There are plenty of interesting facts about this particular game. Firstly, while the Toons have won 4 of their last 5 fixtures, Everton have been on the exact opposite end losing 4 out of 5. Last year, this matchup resulted in 2 away wins, the previous year produced two draws, while the season before saw two home wins. Obertan will miss this game due to injury while midfield machine Tiote is doubtful. For Everton, Felaini is unavailable, because of a suspension for already acquiring five yellow cards this season. Demba Ba has scored two hattricks this season and with 8 goals in his last 5 matches, he is certainly a player on fire. Everton though are a tough side, and they won't give in easily. It should be a balanced match, with both teams managing to score.
Betting Verdict: Goal/Goal @ 1,80

Dynamo Moscow v Spartak Moscow Prediction, 1530 CET

It's one of the biggest derbies in Russia featuring two highly ambitious sides. Dynamo made some good transfers over the summer bringing in two Bundesliga rejects in the likes of Kevin Kuranyi and Andrey Voronin who have formed a formidable strike force. Bosnia's Misimovic who is a top class player is also there. Meanwhile, Spartak are just as dangerous up front with Brazilian Ari and the Nigerian Emenike who scored a hattrick last week. We expect goals here.
Betting Verdict: Over 2,5 Goals @ 1,90

Palermo v Bologna Prediction, 1800 CET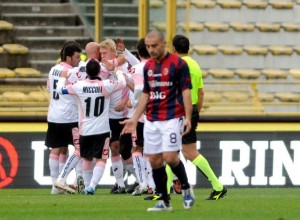 Palermo have had plenty of ups and downs this season. They usually follow a good performance with a poor one, and this inconsistency is costing them a higher position on the table. Bologna though are definitely on the up and they had an impressive win againt Atalanta with 3-1. Marco Di Vaio and Acquafresca are the stars of this team and these are one of Italy's most prolific strikers. Palermo of course are guaranteed to score as well, since they are playing at home and have individuals like Miccolli, Pinilla and Hernandez on their side.
Betting Verdict: Goal/Goal @ 1,83

Betis v Malaga Prediction, 2000 CET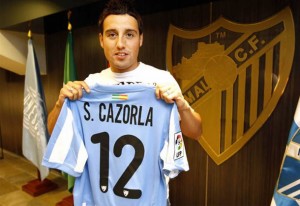 Betis have not scored a single goal in their last three consecutive matches. In fact, they have only scored once in their last 5 games! That's a stat they will certainly be looking to turn around. Of course the club is going through a difficult period, but such bad runs always come to an end at some point.That's why we expect them to score at least a goal here, while Malaga with all their top players on their team should be able to score some goals as well.
Betting Verdict: Goal/Goal @ 1,80