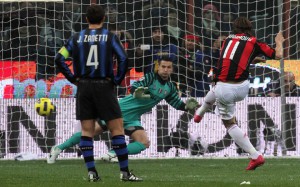 The new 2011/12 season is starting across Europe, with the German Bundesliga being the first to kick off this weekend, while the Seria A  marks the new begining in the "Bird Nest" stadium in China. It's the classic derby of Milano about to be played in Beijing, so we present you our Milan v Inter prediction.
The Italian Supercoppa is a match between the leage and cup holder. For the sake of commercializing the game even further, the Lega Calcio has decided to move this game abroad in the biggest market of them all – China. This is a purely marketing move, as you can see that nowadays, all major clubs are touring the world like crazy, playing friendlies for millions of dollars against local sides in USA, Thailand, Japan, China, etc.
We are starting the new season with the most accurate free football prediction for Milan vs Inter in China. Of course, as usual, we are talking everything in account, from the latest team news to the economics and politics involved in football. The latest squad news for this 2011 Italian supercoppa between Milan and Internazionale, is that the Nerazurri will be without a host of first team players in the likes of Copa America participants Milito, Cambiasso, Lucio, Maicon, and also Stankovic who got injured in practice yesterday. This is surely a huge blow for the  newly appointed Gasperini.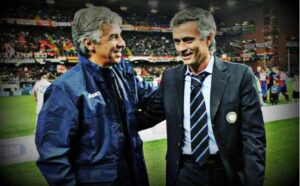 An intersting fact is that back in his Inter days, Mourinho confessed that Gasperini was his most difficult opponent on the bench, admitting that the Italian tactician was always quick to adjust to all kinds of tactical changes and challenges he would throw against him. That should be a really good omen for all Inter fans and probably played a part in Moratti's decision to appoint the former Genoa coach.
But on the downside, it's also a huge gamble for the club as they will be forced to take on a completely different route from a purely tactical and football style aspect, because Gasperini is known for relying on a 3-4-3 system, whereas in the years of the last four coaches at Inter, the team usually played 4-3-3, so all their current players are used to playing in that system and that's why there brought in the first place – because they are good at that particular system. Now, with the 3-4-3 system, Inter are bound to lose the quality they had in the left and right back positions, particularly in the case of Maicon who is rumoured to be on his way out.
But back to our Milan v Inter prediction. AC Milan are practically the same team, with the same coach and the same style of play. In fact, their two new signings this year – left back Taiwo and centre back Mexes will miss out due to injuries. So here are the expected starting 11s:
AC Milan (4-3-1-2): Abbiati; Zambrotta, Nesta, Silva, Abate; Seedorf, Van Bommel, Gattuso; Boateng; Ibrahimovic, Pato
Inter (3-4-3): Cesar; Chivu, Samuel, Ranocchia; Santon, Motta, Sneijder, Zanetti; Eto'o, Pazzini, Pandev
Milan v Inter Prediction: Inter are huge in China, and this would be their second Supercoppa match held in Beijing, so they should have extra motivition after losing the previous one against Lazio in 2009. However, given all the players they are missing and the new style and coach the players are still adapting to, Milan ought to be consiered as favorites. However, we expect a draw in regular time and Inter to triumph in Extra Time or on Penalties.