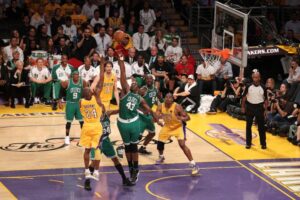 It's Game 2 of the 2010 NBA Finals and we are about to give you another accurate Lakers v Celtics prediction. Phil Jackson's team did a great job in the series opener posting up a dominating performance in a game that ended 102-89 for the Lakers. But as Kobe Bryant said in an interview yesterday, Game 1 belongs to the past now and they are wasting no time thinking how well they played on that night. The Black Mamba and his teammates will be fully committed and concentrated to get another win on Sunday taking a commanding 2-0 lead before the series moves to Boston. That is in fact the essence of our LA Lakers v Boston Celtics Game 2 Prediction.
The Lakers completely out-rebounded, out-hussled and out-played the Celtics in Game 1. The players in yellow and purple collected 11 rebounds more than their opponents, had about 30 second-chance points compared to just 4 for Celtics, and shot 48,7% from the field compared to 43%. Los Angeles Lakers also did a great job putting a lot of key Celtics players in foul trouble early on. Such was the case with Ray Allen who almost got himself fouled out ending the game with 5 Personal Fouls. Paul Pierce also finished the game with 5 PF.
Lakers made a strong opening statement by winning Game 1 the way they did. Kobe Bryant had another great 2010 Playoff performance finishing with 30 points, 7 rebounds and 6 assists. He also made a number of big plays that changed the momentum of the game. Just remember how he blocked Tony Allan's layup attempt and then connected with Fisher for an Alley-up.
Pau Gasol won his match up against Kevin Garnet as the Spaniard ended the game with 23 points, 14 rebounds and 3 blocks in an 8 for 14 shooting percentage. Karnet on the other hand was limited to just 4 rebounds!
A lot about our Lakers v Celtics Game 2 prediction will depend on how good LA play in defense. They have to keep on playing aggressive defense and go for every rebound. The team that shows greater inner strength and desire will win tonight and that should be the players guided by the Zen Master, because he knows exactly what to tell them to have them fully motivated.
Andrew Bynum had a really good performance give the knee problem he is currently dealing with. He posted out 10 points in 4-6 FGM and played nearly 30 minutes. He said he is looking for more playing time in Game 2. If he feels good he should be able to have an even bigger impact which should give his team a serious boost. Bottom line is that for the Lakers having an injured Bynum is way better than having none at all. Just the presence of Gasol and Bynum under the basket makes it very difficult for the Celtics to score easy layups and points in the paint. That's a big factor and something even Doc Rivers admitted as one of the major difficulties his team faces when playing up against the lengthy team from Southern California.
LA Lakers v Boston Celtics Game 2 Prediction: If the Lakers maintain their level of play from Game 1, they should be able to take a 2-0 lead as the NBA Finals move to Boston, but at the odds of just 1,40 it's simply not worth it, especially against a team like the Celtics. As a matter of fact the betting value is on the Celtics as bookies offer 3.00 for them on Money Line so you can Triple your money!
NBA Pick: LA Lakers v Boston Celtics Over 190,5 @ 1,91 – With the Celtics improving their offense, the game should go over the 190 points line.