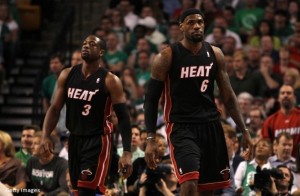 It's Game 6 of the Eastern Conference Finals in the NBA, and as the series shifts to Boston tonight, the big question is can Miami extend it further, or will it all end for the self proclaimed "king" and his crew? Boston proved over the course of their last three consecutive matches they still have what the Heat lacks most – clutchness. In basketball terms, clutchness is defined as the ability to deliver when the pressure is as its highest – in the last 2-3 minutes of a tight game.
Thes Celtics seem to thrive when the game is at stake, whereas the Head go into a hideout mode, where Wade and LeBron take turns to play one-on-one basketball and everything they do seems so easily predictable, especially for a top defense that Boston has.
Kevin Garnette has been playing at MVP level throughout this postseason as we've seen his numbers increase drastically from the regular seaon. His scoring is up to 19.9 PPG, and he is rebounding more at 9.8. He's had 8 double-doubles already, compard to just 7 in the regular season. Truth is that Boston have not faced a team with a real dominant center. The 76ers didn't have one, and neither do Miami, particularly with Bosh out.
Who needs LeBron when we got Rajon? That's what fans in Boston have been chanting lately, and it's totally true. Rondo is in a new dimension nowadays, playing in a style similar to Magic Johnson. He does just abot everything on the court for the C's and if KG is the fuel for this team, Rajon is the engine. He is the leader in the assists category this postseason with 11.7 per game, and at the age of just 25, he has already had more Playoff double-doubles than Steve Nash.
Doc Rivers has been doing an outstanding job outcoaching and outsmarting Eric Spoelstra, even with the much shorter bench that Boston has. Bradley was one of the few scorers they had there, until he got injured for the entire postseason, so their options are now limited to Peitrus, Dooling, Steisma and Daniels. That's a major weakness of the Celtics, and if Miami manages to explioit, even if it means LeBoron playing the full 48 minutes, they should do it.
In order for Miami to win, Chris Bosh has to be seriously ivolved as well. One of coach Spo's mistakes in the previous game was that he didn't given him much playing time, despite Bosh showing that he is up for the challenge by grabbing a season high for him 6 offensive rebounds and scoring 9 points in just 11 minutes in the first half. He got only three minutes of playing in the second half though, and didn't playin the 4th quarter when Miami badly needed someone else besides Wade and LeBron.
Heat at Celtics, Game 6 Prediction: Miami Heat to Win @ 1.85