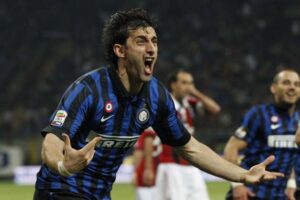 There are loads of local derbies about to be played on October 7th all over the world, and we have prepared for you the most accurate football prediction for today with this Milan v Inter preview. Some say that this derby has lots some of its glamour, because both sides sold some of their brighter stars over the past few seasons with Mourinho, Eto'o, Maicon, Motta, Juilo Cesar leaving Inter, while Milan parted ways this summer with Ibrahimovic, Thiago Silva, Pirlo and Seedorf. There is no denying the fact that this is one of the darker periods of both Milanese giants, and it's proven by their results so far this season. Still thugh, with Barca and Real playing every few weeks now, we predict that Milan v Inter will be the bigger spectacle.
Of course, it's never easy to given an accurate Milan v Inter prediction. That's one of those matches that's almost impossible to properly anticipate what's going to happen. It's usually the underdog that wins, but in this particular situation, both teams haven't been on top of their game this season, so it's hard to label one as favourite to win. Milan were impressive midweek when they trumped Zenit by 2-3 in Russia. Meanwhile, Inter also scored three goals in their away win against Baku (1:3).
However, both sides have been through some serious ups and downs in just a month now. Milan lost their opening game at San Siro against Bologna, while Inter lost by 0:2 at home against Siena. Inter were dealt another heavy blow at home against Roma where they lost by 1:3, while Milan lost another home game in Seria A against lowly Atalanta. Milan have now lost a total of three league matches out of six, and another defeat in the derby here will probably make up for one of their worsts season starts ever. The lack of consistancy is another important factor in this Milan v Inter prediction for October 7th.
In relation to our Milan v Inter prediction, one of the few positives at both clubs is the emergence of some young talents. El Shaarawy has scored five goals this season already, including a brace against Zenith. He is likely to score one against the Nerazzuri with the odds on him to Score at Any Time being very lucractive at 2.75. The main threat for Milan would be "El Prince" – Diego Milito with odds to SCore at Any Time set at 2.62.
In terms of the end result, the online bookies such as bet365 are favorizing Milan at 2.40, while an Inter win would pay off at 3.10. The draw, which is as always the most likely result, at least according to our Milan v Inter prediction on October 7th, is rated at 3.10 as well.
Milan v Inter Prediction: To get our betting pick for this game along with all our selections for the next ten days, register here.