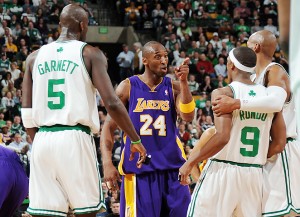 The 2010 NBA Finals shift to Boston for the next three games the first one of which is scheduled for tonight. With the series tied at 1-1, the big question regarding this Boston Celtics v LA Lakers Game 3 Prediction is who is going to shine this time around?
It seems that every game in the Playoffs belongs to a certain individual who gets unstoppable on that particular occasion. It was Kobe Bryant who starred in Game 1 leading his Lakers to victory. Game 2 will be remembered for Ray Allen's record breaking 3-point shooting hitting 8 from 11. Of course Rondo also had a stellar performance posting yet another triple-double as he finished the game with 19 points, 12 rebounds and 10 assists. So whose turn is now? Perhaps Paul Pierce will shoot the lights out or Kobe will take over once again. Or maybe, we will see Lamar Odom sparkling up the Lakers from the bench. Pau Gasol has been impressive throughout the entire Playoffs.
Right now a lot of people are favoring Boston Celtics to win the 2010 NBA Finals, especially after getting an away win Los Angeles. But if you take a closer look at that Game 2, you will see that the Lakers are still more than capable of coming up with the goods. The Lakers were impressive in the series opener and were right there in Game 2 only losing it after some bad calls by the refs.
Ray Allen went crazy scoring 7 threes in the first half while Rondo had a triple-double, yet despite those two incredible individual performances, the Lakers were right up there until the final minutes. In fact, they overcame a 14 point deficit and took the lead in the 3rd quarter. Then Kobe Bryant got into some serious foul trouble, which was actually produced by the referees who made some really bad calls. The called two offensive fouls on Kobe which actually should have been and-1s. So Phil Jackson had to take Kobe out of the game right in the period when the Lakers were starting to hit their stride and get back into the game. And even without Kobe for large parts of the match and despite Allen miracle 3-point game, the Lakerks were in position to win the game.
If you look at the final score of Game 2, it was 103-94 for Boston but that certainly doesn't reflect on the reality. In the 46th minute with the score at93-90 for Celtics, the refs made their worst mistake when they called one ball out of Gasol, when it was Kevin Garnett who put it out of bounds. As a result of this ref decision, the ball was given to Boston, they scored and took a commanding 5 point lead with a minute and 30 seconds to go. This decision was the real game changer along with the dubious fouls called on Kobe just to get him in foul trouble so that Phil Jackson will put him out of the game.
Fact of the matter is that the referees helped the Celtics out in Game 2 with some calls here and there. We are talking about minor incidents that make a big difference when such well balanced teams go against each other. Hopefully, they will get it right in Game 3 and the better team will actually win this time. This is why we are going for an away win in our Boston Celtics v LA Lakers Game 3 Prediction.
Boston Celtics v LA Lakers Game 3 Prediction: The online bookies are favoring Celtics to win Game 3 as they offer 1,68 for them on Money Line, but the betting Value is definitely on the Lakers as the odds for them are 2,25 on ML!