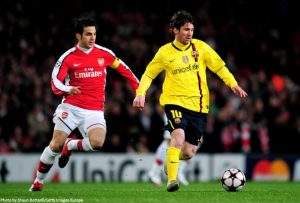 In what is argubly the most interesting tie in this year's Champions League round of last 16, BetOnWins.com delivers you the most accurate Barca v Arsenal prediction for March 8th, 2011. The anticipation going into this game is just massive as this will be a match watched by hundreds of millions of fans all over the word. This will inevitably generate huge amounts of bets and money for the online bookies, and you can be certain that the faith of this battle has already been decided by mister Michele Platini, and his fellow men at UEFA.
We already predicted accurately that Arsenal was going to win the first leg in London, and they not only won it, but they did after trailing 0-1 at the break. The Gunners went on a shooting spree in the second half scoring two magnificent goals, to have their revenge for the 2-1 loss at the 2006 Champions League Final. See, the Champions League is all about history and pay backs, and these two clubs go a long way. They have formed an interesting battle in Europe over the last 6 years or so, however, it has been a rather one-sided affair so far, with Barcelona always triumphing. Could it be time for a turnaround? Perhaps it's Arsenal's moment to shine on the big stage at the expense of the Catalans?  We answer that question in what will hopefully turn out to the be the most accurate Barca v Arsenal prediction, and the best Champions League betting pick for today.
The intrigue surrounding this tie is enormous and it was conceived way back, with Cesc Fabregas being in the middle of it all. These two teams were drawn together by no coincedence! People are looking forward to seeing how this tie turns out and the consequent effect it will have on Cesc's faith be this summer.
Everyone is fully aware that Barce is the best team in the world right now. They are heavily favored to win not just the Spanish Primera (which looks almost certain now), but also the Champions League. And truthfully, it looks almost scandalous for a club like Barca to have just 3 CL titles, especially compared to Real Madrid's 9. Anything but triumphing with the trophy at Wembley in three months, would be a failure for the Catalans and this does put a huge amount of pressure on them. Meanwhile, Arsenal are free of any worries as they are expected to get eliminated, and yet they showed already that they are capable of beating their mighty opponent. So the pressure factor, which is always important in football betting, is definitely in favor of the English side in this Barcelona v Arsenal prediction.
The big deception about this Barca v Arsenal prediction is that the Spaniards will just dominate from start to finish and win by several goals easily, similar to what happened last year when Messi scored 4 goals for a 4-1 win. What we can tell you for certain is that it will be much more even and down to the wire this time around. This game will be no walk in the park for the Spaniards.
Basically, BetOnWins.com's Barca v Arsenal prediction for the 8th of March, 2011, is that the visitors will give a stern test, and if they resist on the Catalans' initial pressure in the first 10-15 minutes, they might as well take advantage of all the pressure that will start piling onto the home players and take a shocking lead in the first half. Betting on Arsenal to lead at Half Time is the best Champions League pick for today, since there is a lot of logic to it, and it pays off at 9.00 at Bet365.com! That just crazy!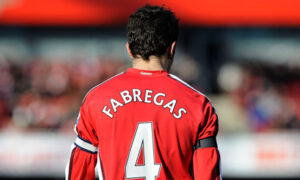 If you are looking for the first  goal scorer, look no further than Cesc Fabregas who will be eager to impress on his return to Camp Nou. Cesc to score first is available at Bet365.com at 19.00! With all the intrigue and controversy surrounding the midfielder, product of the Catalan football system and Barca, it's highly likely to see him open the scoring as it often happens in the funny world of modern football.
Another huge factor about this Barcelona v Arsenal prediction is that the hosts will be without their starting defensive pair as Puyol is out with an injury, while Pique is suspended. That would be a huge blow for Guardiola and will open serious holes in their defense, which Wenger will be certainly look to exploit with his fast players and sudden counter attacks. Abidal will be forced to play at the heart of the defense, which is not his favorite position. In fact, he is dreadful when played there. Therefore, another super accurate CL pick for today is that Both Teams will score in this game (Goal/Goal) and that's rated at 1,80.
Barcelona v Arsenal Prediction: We expect Arsenal to provide a much more difficult challenge to Barca than last season. There is loads of value in betting on the Gunners to take a surprising lead in the first half, given the pressure factor and the absentees of Puyol and Pique. In the second half howsever, the home side will be desperate to turn things around and will level the total scoreline with a 2-1 comeback win that will send the tie into Extra Time. We expect the winner to be decided in the additional 30 minutes.
Arsenal to lead at Half Time @ 9,00
Fabregas to Score at Any Time @ 5,50