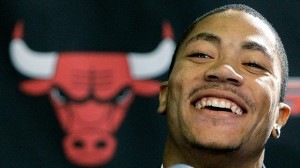 The great thing about National Basketball Association is that teams are on a tight schedule playing almost every night and as tiring as that could be, it also gives them a chance to quickly bounce back after a bad run. Chicago Bulls will be looking to take full advantage of this and get back to winning ways. In Dallas, the Mavs will try to stop Celtics, while the Memphis Grizzlies are out for revenge against Suns.
Denver Nuggets At Chicago Bulls Prediction – Bet On Bulls To Win @ 1,66
Bulls are on a bad run of two straight losses while Nuggets are on the exact opposite end of things having won their last two. Chicago are coming into this game after a dramatic loss against Celtics in Boston where they lost in Over Time having made a big come back in the second half. This unlucky defeat will give them an extra drive for tonight's game against an undersized Nuggets team. Denver are without their two big men Chris Anderson and Kenyon Martin, while Brazilian center Nene missed the last two games and is listed as "GTD" (game time decision) right now. These absentees will give serious advantage for the Bulls which are one of the better rebounding teams anyway.
Chicago will dominate the glass tonight and that will be the key to their win. Noah grabs about 15 boards per game and even though he has this funny looking appearance you can't deny his effectiveness on the court. Deng is also an excellent shooter and if he has a night he just might score 20-30 points to help out Derick Rose. Rose of course is the heart and sole of the Bulls and it's up to him to lead everyone.
Another important advantage for Chicago is that they have rested well for this game, because their last game (the loss against Celtics) was last Friday (5 Nov). That means that they will have a lot of energy for this game while their building (United Center) leads the league in average attendance. The home factor is on Bulls' side and that matters a lot against though opponents like Denver.
NBA Pick: Bet On Bulls to Win @ 1,66 On Money Line
Phoenix Suns at Memphis Grizzlies Prediction – Bet On Grizzlies to Win @ 1,50
Memphis Grizzlies are turning into one of the most exciting young teams in the NBA right now thanks to loads of talent they have in their starting five. Olympic Champion Rudy Gay is their leading scorer with about 25 PPG, but he is getting plenty of support from Mayo and Zack Randolph. Randolph is a very good power forward, one of the best in his position right now and his physique and skills allow him to average a double-double every night. Another strong performer for the Grizzlies is Mark Gasol who is developing to be just as good as his brother (Pau Gasol). So there you have it – the crowd in Memphis has a great young team to enjoy watching.
There are two things that should work in favor to the Griz against Suns – the revenge factor and the tiredness factor. Suns are coming into this game after a hard-fought win against the Hawks, but that game was played in the East coast (in Atlanta) so today they had to travel to Memphis for this encounter. We are talking about a "revenge factor" because Suns won the last game between the two sides in OT just a few days ago.
NBA Pick: Bet On Grizzlies to Win @ 1,50 on Money Line
NBA Betting Tip: the odds on those two picks might not be sky high but a combined (parlay) type of bet on both Bulls and Grizzlies to Win results in a total odd of 2,50 which should get you through tonight.