It's a blast from the past as we bring you the best free football pick with this France vs Brasil prediction. In a reply of the ultra suspicious France vs Brazil Word Cup Final back in 1994 (3:0), Le Blues take on Selecao in what will certainly be the most highly anticipated football match for tonight. Some big name players will be on display at the Stade de France on the eve of February 9th, 2011.  It's basically a "must-see" game and as always BetOnWins.com brings you the best betting picks for France vs Brasil.
Both nations had a poor World Cup at South Africa 2010, judging by their own standards of course. Yet, we knew back then that France were bad and we predicted accurately that they would go out in the group stage, but they didn't even get a win. Then came all the inside scandals, coach dramas, and logically Laurant Blanc was appointed. The former Inter and Manchester United central defender is now transferring his success at the club level to the national side and you can tell that Les Blues have been slowly but steadily improving.
Brasil also axed their coach following the World Cup and Dunga got replaced by Mano Menezes. It seems that he is also turning out to be a breath of fresh air as he injected some new life into the Brasilian lineup by replacing some old and established players with talented and hungry youngsters.
The coaching aspect is always important which is why we are taking it into account in this France vs Brazil prediction. Of course, we are talking about a friendly match, so it's very important to know what the potential starting 11's would be. What's certain about this France vs Brazil prediction is that Patrice Evra and Jeremy Toulalan have not been called up by Blanc, while Ribery and Nasri are out injured. These are some pretty big absentees for the home side. On the other side, Mano Menezes was not impressed by the way Maicon, Fabiano and Melo have performed over the season at their respective clubs, so all three of them didn't get an invite.
France vs Brazil Prediction, France Starting 11:
1 Hugo Lloris Goalkeeper
29 Bacary Sagna Defender
6 Laurent Koscielny Defender
5 Philippe Mexes Defender
3 Éric Abidal Defender
18 Alou Diarra Midfielder
19 Abou Diaby Midfielder
8 Yoann Gourcuff Midfielder
– Jérémy Menez Midfielder
10 Karim Benzema Striker
15 Florent Malouda Midfielder
France vs Brazil Prediction, Brazil Starting 11:
–

Renato Augusto

Midfielder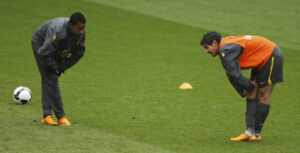 Considering the starting eleven's which the two coaches will most likely field tonight, the most reasonable France v Brazil prediction would be for a Draw and Bet365 offers this bet at 3,20 as the online bookies are viewing this as a highly possible outcome. Four big players are missing for France, while Brazil also looks shaky in midfield with such an experimental group of Lucas, Elias, Santos and Hernanes. It doesn't look like Robinho and Pato up front will have an awful lot of chances to score.
Still though, France will be presenting their new jersey and would probably like to mark a new begining in front of their own fans, so BetOnWins cannot overrule their chances of winning. A win for France is offered by Bet365 at the odds of 2,70. What's interesting about this France v Brazil prediction is that the odds on France dropped significantly over the course of the day. They started at 3,10 in the morning so that's a drop with 0,4 showing that a lot of people are now betting on France to win. However, an interesting fact about this particular match-up is that Brazil have not won in the past 6 meetings.
France vs Brazil Prediction: France playing in front of their own fans in hopes to mark a brand new start against a somewhat weakend Selecao selection. It's hard to see France losing this one, so our bettng pick goes for Win or Draw for France.