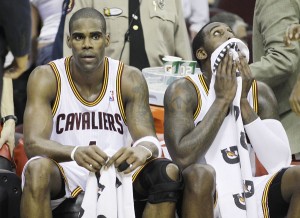 When will the mysery finally end? That's the question bothering basketball fans in Cleveland as the Cavs went into the history books this season, but for all the wrong reasons. The Cavs became the first team in the entire history of the NBA to lose 25 games on a row, and they can keep their losing streak alive with another defeat against the Detroit Pistons tonight. That's what makes this particular Pistons at Cavs prediction the top NBA betting pick for tonight.
If there is a beatable opponent for the troubled Cavaliers, that would be the shaky Detroit Pistons. The bottom line about the team from the Motor Town is that they are a talented team that flat out sucks. They got so many skilled players like Charlie V, T-Mac, Prince, Bynum, Gordon, Hamilton, Dave, Monroe, Stuckey, and yet they have a losing record with their 19 wins and 33 losses.
What's important about top NBA predicition for tonight is that the Cavs have been showing some signs of improvement lately, as they barely lost to the Mavs at Dalls, and on their previous game they played hard till the end away to Memphis Grizzlies (105-112) and lost in OT at home to the Pacers 112-115. So the signs are there and it does look like the Cavs are about to break through. Will tonight be that night?
The odds provided by online betting companies speak in favor of the home team in this Pistons at Cavs prediction. Cavaliers win is rated at 1,80, while Pistons to win is offered at 2,05. The big problem for Cleveland is that they have been playing without their two best players – Mo Williams and Anderson Varejao. Still though, they can rely on JJ Hickson, Jamison, Parker and Sessions. Moon and Gibson provide a strong push from the bench.
Pistons at Cavs Prediction: The Cavs have been tragical so far this season and yet even the worst series come to an end and they are going to win sooner rather than later. We believe they will finally end their historic run of 25 consecutive defeats against the Pistons tonight.