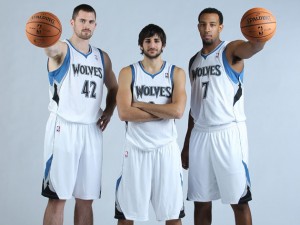 Minnesota Timberwolves are converting into one of the better team in the NBA, mainly due to the summer injection of not just one, but two really good rookies in the likes of Williams and Rubio. Williams is starting to produce double-doubles, while Rubio had 14 assists last night in the win at Washington. On top of all that, Kevin Love just keeps getting better and better, and it won't be far fledged to say he is the best power forward in the league right now.
But these trio are not the only talents rising in Minnesota right now. Michael Beasly is one of the top talents in the league, and could be All-Star if he plays and acts more intelligently. They also brought the championship experience of JJ Barrea, to combine with Like Ridnauer for the point guard spot along with Rubio, although two of the are often paired at the back court by coach Adelman. The only downsides for the Wolves going into this game is that Beasly is definitely out with an injury, while Barrea is listed as questionable. Beasly not playing can actually be a good thing as that could have Adelman provide more playing time to the rookie Williams who certainly deserves it judging by his displays so far. Darko Milicic is also playing more solidly this year.
Bottom line is that the Wolves have certainly turned things around, and it's only a matter of time for Rubio and Williams to develop their talents further and they will be one of the main forces in the NBA. In light of our NBA betting predictions and tips daily, we have to outline that the value is with the Wolves this season.
As per their opponents, Toronto have struggled this season with the exception of a win against New York at MSG. And that's no surprise given that they just lack talent, except for Italian Andrea Bargnani. He is without a doubt their best player, one that can score from anywhere and lead the team. The other quality individual is DeMar DeRozan, but he is mainly a scorer and doesn't play much D. Barbosa and Calderon are the other Raptors worth mentioning, but just looking at the matchups in this game, it's clear that Minnesota have an advantage.
Timberwolves at Raptors Prediction: Minnesota are the better team and have an advantage in the direct matchups. Love will once again be unstoppable under the boards as he has the upper hand over the softer Raptors in the likes of Bargnani and Amir Johnson, while Rubio and Williams will create the spark in offense.
Betting Verdict: Timberwolves to Win @ 2.30 on Money Line