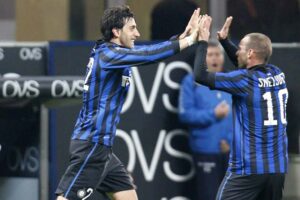 Today is a special day for Inter and it coincides with this fixture away at Chievo, as the Nerazzuri try to get back on track and save their disastrous season. Without a single win in their last nine matches, Ranieri's men get another chance tonight, but the only certainty is that they will have a difficult time aganist the Flying Donkies, which are a well organized opponent.
The onlines bookies are pretty realistic today in terms of rating Inter's chances of getting a win. The odds are quite high at around 2.60, which comes as little surprise given how bad they have been playing, in combination that they might be saving their energy for the crucial Champions League second leg against OM. However, we feel there is great value in betting for an Inter win here, against all odds.
At betfair.com, you can bet on Inter to win at 2.76, while bet365 offers 2.60. When it comes ot sports betting, rule number one is to follow the value, and it's definitely on the visitors here. Whenever you have the chance to lay money on an underestimated big team, you should do it. And that's exactly the case with the Black and Blue tonight.
The first and most obvious reason for predicting an Inter win here is that they will have to end this bad run at some point. They have not won for nine straight matches, and that probably has not happened to them in a decade. It's just a scandalous number for a club as Inter, and even if they fail to win now, then you can go all-in on their next game in the CL where the odds are more or less the same. But still though, we do believe it will be a lucky 10th try for them.
Another major factor is today's date – 9th of March, 2012. Inernazionale di Milano FC was founded exactly 114 years ago, so today is the club's birthday. There is only one way to commemorate such a huge day and it is to win. From the staff down to the players, everyone at Inter knows that a win is a must on this particular night, in order to cheer up president Moratti and all fans worldwide givnig them a gift of three points. This will also boost their confidence in front of the season-deciding CL game agaisnt OM.
Inter have almost definitely dropped out of the Champions League for next season, because Seria A's quota has been reduced to three places in favor of the Bundesliga, and it's more than obvious by now that the top three this season will be occuppied by Milan, Juve and Napoli. So Inter's only chance of playing in Europe next year is the Europa League, but they are slidding away from it as well. They are five points away from the fifth in the standing – Napoli who have 43. Therefore, a win here is practically an absolute must for Inter.
Chievo v Inter Prediction: The 9th of March is Inter's birthday and the only gift fans would accept is in them form of three points against Chievo. It's about time for the Nerazzurri to end their bad run and boost their confidence going into the CL decider next Tuesday.
Betting Verdict: Inter to Win @ 2.60