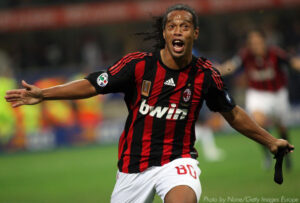 Genoa's hopes of European football next season have vanished completely due to their poor string of results in the last couple of months. AC Milan are not exactly flourishing either as what was once a fight for the Seria A title has now turned into battle for the 3rd spot giving direct Champions League qualification.
So Genoa takes on AC Milan on the 9th of May in a match that the hosts have little to play for. Genoa are now 8th in the league and have recorded just 1 win in their last 8 games! Check out their recent results:
02/05/2010     Serie A    Bari vs. Genoa     L – 3:0
25/04/2010     Serie A    Genoa vs. Lazio     L – 1:2
18/04/2010     Serie A    Parma vs. Genoa     W – 2:3
11/04/2010     Serie A    Sampdoria vs. Genoa     L – 1:0
03/04/2010     Serie A    Genoa vs. Livorno     D – 1:1
28/03/2010     Serie A    Siena vs. Genoa     D – 0:0
24/03/2010     Serie A    Genoa vs. Palermo     D – 2:2
Genoa have secured their place in the Italian top flight for next year while at the same time have no chances of grabbing a spot for Europa League. Thus they have nothing to play for in this game except to please their own fans in their last home match of the season. Hence, our Genoa vs Milan prediction is for an away win here as the Rossonerri are the classier side and will want to grab the 3 points and cement their 3rd spot. If they fail to win, they might even lose their 3rd spot to Sampdoria on the finnal day of the season.
Genoa will have a number of important players unavailable for this encounter as Jankovic, Kharja, Rossi, Dainelli and Moretti are out, while their main strikers Acquafresca and Suazo are struggling with injuries and might also miss out.
There are more positive news coming from Milanello as Pato and Bonera are back in the group training on equal terms with the rest of the team. Nesta is also expected to be back for this game. Ronaldinho will be looking to finish the season in style and earn a spot in Brazil's squad for the World Cup, so one of our Genoa Milan predictions is for Dinho to Score at Any Time!
BetOnwins Genoa vs AC Milan Prediction: Expecting Milan to grab all 3 points in this game as they are the better and more motivated side. Pato, Borriello, Ronaldinho, Seedorf and Pirlo will lead Milan to victory!