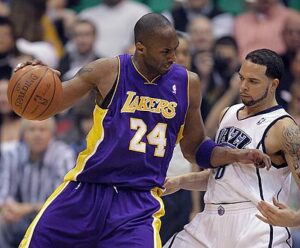 The Jazz have a mountain to climb in front of them as the series against LA Lakers switch to Salt Lake City. Lakers head coach Phil Jackson has never lost a Playoff series after winning the first game (45-0) and has 52-1 record when he has any type of lead in a series. So from a purely statistical standpoint, it looks highly unlikely if not impossible for the Jazz to overturn their 2-0 deficit and proceed to the Western Conference Finals.
However, that still doesn't mean they are not a good basketball team and they won't win a game here. As a matter of fact, we are predicting that Jazz will win tonight's Game 3. The Jazz were really close to pulling out a stunner in Game 1 which they lost in the final seconds of the Game 2. They were close in Game 2, but now at their own floor and with Kirilenko back in the squad, they will be in a much better position to get the victory. Plus, Deron Williams shoots much better at home so he should be able to manufacture over 20 points in this game, and he wasn't effective scoring-wise in the first two games of the series.
The Utah Jazz have been one of the best home teams in the NBA ever since Jerry Sloan took charge of the team. Another factor working for them is that they will have desperation on their side as Game 3 represents a do or die situation for Derron Williams and co.
In terms of betting, online bookies are favoring the Jazz to win as they offer 1.5 for them on Money Line while the Lakers are rated at 2.7. So the value is definitely with the Lakers as they are of course the classier side and it won't be a miracle if they go ahead and win this game too. But if the Jazz go down three-zip the series will practically be over and we feel it's a bit too early for that. Yes the odds for a Jazz win might not be so great but in the world of sports betting and NBA picks in particular, it's important to not have your judgment not influenced by the odds.
BetOnWins Utah Jazz vs LA Lakers prediction: Inspired by the home crowd and lead by Derron Williams, the Jazz should play a very aggressive type of basketball tonight and with the return of Kirilenko, in combination with Boozer's solid game, they should be able to win it. Bet On Jazz to Win!