In a repeat of the 2008 Euro Final, two great sides go head to head as we give you the most accurate betting tips for Germany vs Spain. It will be an intense game from the very first minute and people all over the world are already going crazy about it. Germany has been the most impressive side in the entire World Cup so far as they had three games winning by 4 goals. They certainly look like the most dangerous side in attack while their defense is stable to say at least. Spain on the other hand has been sort of sneaking in with two 1-0 wins over Portugal and Paraguay in the phase of direct elimination.
Fernando Torres is far from his good days and has been of the biggest disappointments in South Africa 2010. Of course everyone talks about the injury he went through at the end of the season, but what matters are the results on the pitch and a big player like that has to do everything possible to leave his mark. That is, if the Kid wants to be considered as a "big player". He has zero goals to his name in this World Cup! That's a big shock for anyone who follows football and yet we all seem to be getting accustomed to witnessing the biggest footballing stars collapse in Africa. Messi went out goalless, so did Rooney, Kaka and a host of other big names.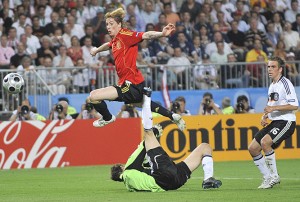 However, it does seem like this could be Nando's night so the most accurate betting tip for Germany vs Spain is to bet on Torres to score the At Any Time, which bookies rate at 2,75! That's a super value type of bet considering that it's a game which is as close as you get to unpredictable with two quite even sides tackling each other.
The main thing to this particular football prediction is that Torres was the player who scored the winner for Spain in the Euro 2008 Final against Germany, so he will be feeling really confident against this side. This happens quite often in football history – to have a certain player who likes to turn a given opponent into his personal client, scoring in every game against them. This would be the ideal match for Torres to bounce back and shut the mouths of all critics.
Football predictions are all about timing the bets you place. This means following a certain event closely and go after one thing in particular, because eventually it will happen. It's hard to see Torres leaving South Africa goalless, because there is another match left for Spain even if the lose. So if he doesn't find the net in this game, you can double the bet on the next one.
Top Betting Tip for Germany vs Spain: Bet On Torres to Score 1st at 6,50 or Scoring At Any Time at 2,75!