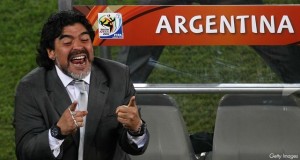 The most common Argentina vs Mexico prediction is of course a win for Diego Maradona's team, but it won't happen as easy as people think. This is actually a repeat of last World Cup's last 16 round match which ended 1-1 in regular time only for Maxi Rodrigues to settle it in Extra Time with a spectacular goal. Will we this match go beyond the regular 90 minutes?
Messi is yet to score in this World Cup so one of the best Argentina vs Mexico Predictions is to bet on the little genius to score the 1st goal in the match at 4,00. But if you want to play it safe, we suggest you bet on Messi to Score at Any Time which is 1,90. Gonzalo Higuain will also be looking to score as he is fighting for the Golden Boot in South Africa with three goals to his name already. The bookies offer 2,37 for him to score at any time of the match!
The basis of our Argentina vs Mexico Prediction is that these two sides are quite familiar with each other, they have played against one another on a number of times and have a lot of similarities in terms of their skills set and playing style. Both sides are technical, fast with the ball, like to break the defense on the counter attack and have pacy wingers on the sides of the pitch. Of course, the talent is much more evident in the Argentinian side.
This will be a tricky affair, but perhaps the most accurate Argentina vs Mexico Prediction is that Both Teams Will Score which is offered by online bookies like bwin at 2,25! Such high odds are like a gift, because Argentina is guaranteed to score at least one goal, so all it takes is for Mexico to score just once in 90 minutes of play and you will be counting your winnings!
This evening World Cup game will be a fast paced one, with a lot of goals in it. A real Lation spectacle with all the drama and fireworks to it. A lot of people have completely written of Mexico in this clash against Argentina and this can be a costly mistake for them. Good news for Mexico is that they welcome back Arsenal forward Carlos Vela into the lineup after he recovered from a hamstring injury picked against Uruguay. An interesting historical fact about Mexico is that this is exactly the stage (last 16) at which they have been eliminated in the last four editions of the World Cup and have never managed past it outside of their own country.
Argentina vs Mexico Prediction: The Mexicans have nothing to lose in this game and we will be eager to show their best against the super favorites Argentina. The best sports betting tip here is to bet on Goal/Goal at 2,25!