An absolute Champions League classic awaits us on a Friday night, so we are coming up with the top Barca v Bayern prediction on August 14, 2020. It feels weird to have such major games in the middle of the summer and on a Friday night in particular, but that's just how 2020 has been. Everything is upside down and that game is no different. Betters would rarely see Barcelona as an underdog in any game, but that's exactly the case here.
Bookmakers are staking the odds against Barcelona, but that's based on the current form and the results of both teams thus far this season. Yes, Bayern have been on a tear going easily past most opponents like an absolute German machine, whereas the Blaugarana have been struggling on and off the field and changing coaches mid-season. That's why it's easy to see why all the bookies are heavily favoring the Bavarians with about 2.00 odds for the win while offering 3.60 on a win for the Spaniards and 4.00 for a draw in regular time.
The Impact of Covid-19 On Sports
However, COVID-19 has shook everything up, including sports. The pause in the middle of the season, due to the coronavirus pandemic has allowed Barcelona and Messi in particular to recover some of that lost energy. Furthermore, this Champions League Quarter Final would be decided in just one game, and we all know that anything can happen in the space of 90 minutes (or 120). And that's not just anybody, that's Barca with Suarez and Messi for crying out laud!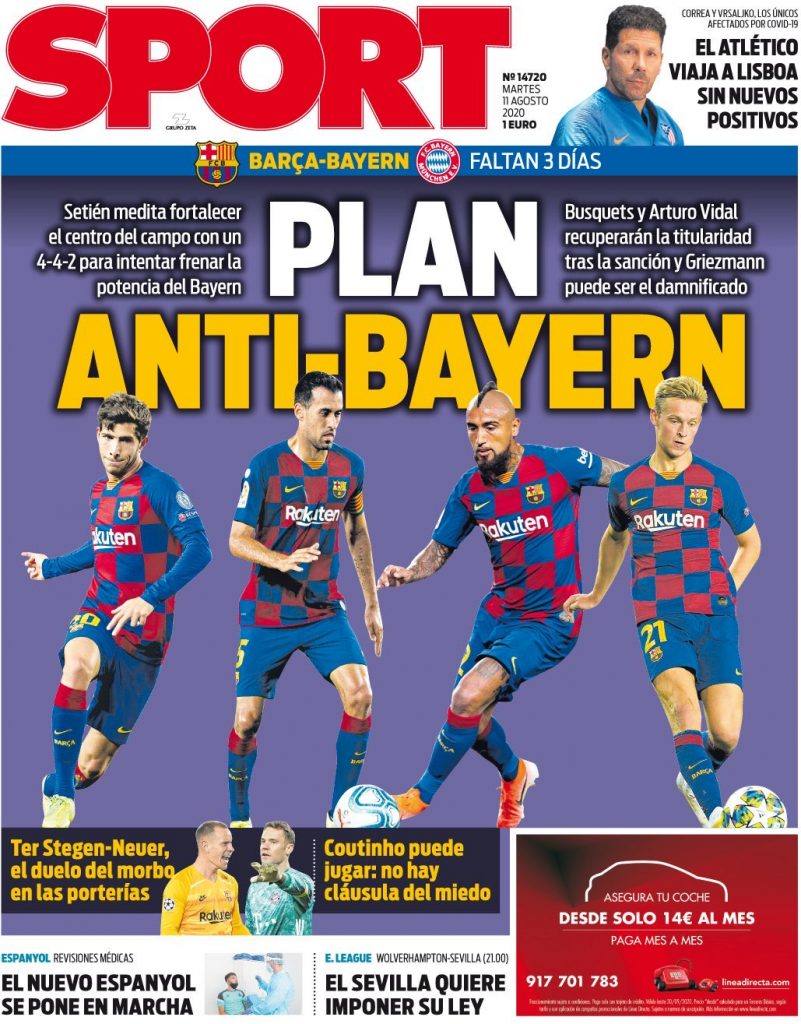 Barca To Rule The Middle
A major setback for Bayern going into this clash is the fact that Pavard misses out with an injury, which will shift Joshua Kimmich away from the midfield into the right back position. In turn, Thiago loses his main partner in crime all season long, and he will have to solely carry the burdeon of bringing creativity to the midfield and creating chances.
Don't forget that Thiago is a former Barcelona player, and they know how to neutralize him. Bayern's midfied will consist of Thiago, Goretzka supported by the wingers Coman/Perisic and Gnabry, and Muller who will play behind Lewandowski. These front three (behind Lewandowski) are not known for their hard battles in midfield nor for their ability to retain possession of the ball and move it around.
That's precily what Barcelona's midfield is known for. The former Bavarian Vidal battles hard for every ball and will have that extra chip on his shoulder. De Jong and Busquets are bosses in the middle of the park, and these three will easily take over Thiago and Goretzka giving the Spaniards control over the entire game.
Form Is Temporary, Class Is Permanent
As the underdog here, the Catalans offer great value. Messi is always up for the big games, simply because they amp him up and it's all about motivation and desire with him. With over 700 goals in his entire career, he might give some opponents like Levante or Alaves a pass on certain nights. However, European giants like Bayern Munich and elimination matches in the Champions League bring the best out of him, and you can bet he will score at least once tonight. And Barcelona are not that bad despite the unconvincing season they've had. Let's just look at their expected line up: Marc-Andre ter Stegen, Nelson Semedo, Gerard Pique, Clement Lenglet, Jordi Alba, Sergio Busquets, Frenkie de Jong, Arturo Vidal, Luis Suarez, Lionel Messi, Antoine Griezmann.
This is a team more than capable of beating anyone, so it's really strange to see how easily people forget that and end up hopping on the Bavarian bandwagon now. All the "analysers" are going crazy on Bayern right now and most pundits predict an easy win for the Germans, but I'm not with them on this one. That's just how the global betting machine works and a lot of people will lose a lot of money tonight.
Betting is all about taking calculated risks and a bet on Barca against Bayern is exactly that. Of course, Bayern Munich are a great side at the moment, but the actual value is on the Catalans and that's why we are picking them to not lose the game. If you are feeling lucky, you could opt for a Barcelona win in Extra Time or via Penalties which is offered at the mouthwatering odds of 15.00 each!
Latest Team News
Betting Verdict
The safer Barca v Bayern predictions are Both Teams to Score (at 1.50) and Barcelona to Win or Draw (Double Chance) at 1.80. Another good Champions League betting pick for tonight is Barcelona to go through at about 2.40.