Balotelli got himself involved in another scandal once again last night in the match against Barcelona.After being in an open conflifct with coach Jose Mourinho and got filmed on camera with an AC Milan jersey, it seems that Inter fans got just about enough of the mouthy Ghanaian as they started whistling him from the moment he entered the pitch.
He came on as late substitute replacing Milito and did nothing useful for his team with his appearance. The only thing he will be remembered for on the night was the insulting gestures and curses he directed to Inter fans at the jam packed Giuzeppe Meazza stadium. He was caught on camera saying "You are all sons of bitches!" and had to be escorted off the stadium as Inter fans wanted to literally lynch him.
The entire crowd was chanting against Balotelli and they had every right to do so as he is a self-proclaimed fan of city rivals AC Milan. Balotelli even went on to pose with a Milan shirt and has been  seen on a number of ocassions at AC Milan fan shops and even at their home games.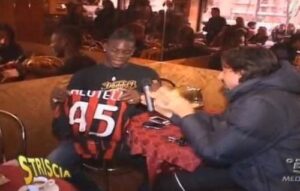 It seems that with all the controversy surrounding "Super" Mario his days at Inter are numbered and he might get the transfer he wants to city rivals or in England.