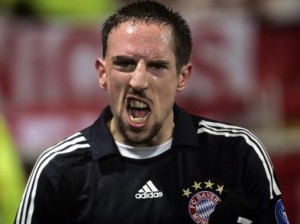 What better way to kick off the 48th Bundesliga season than a Bayern Munich v Wolfsburg prediction? The champions from the last two seasons in Germany go head to head at the Alianz arena tonight at 20:30 CET, 20th of August. Bayern Munich will be looking to start on a high note and continue their impressive games from last season, while Wolfsburg will enter the field hoping for a fresh start under new coach Steve McCLaren.

In order to give an accurate Bayern Munich v Wolfsburg prediction, we have to start with the man in black – Louis Van Gaal and Steve McCLaren. These two share another very interesting connection similar to the one between their respective clubs explained above. They are the respective winners of the last two editions of Holland's Eredivisie. Van Gaal won it in 2009 with AZ Alkmaar, while the Englishman triumphed with Twente in 2010. Now the two lock horns in Germany so it will be very interesting to see how that turns out.
Our betting tips for Bayern v Wolfsburg of course account for the players that will be involved and all the latest team news. The foundation of all accurate football predictions is knowing all the latest that happens in the clubs that you are going to bet on. Which are the key misses and which are the new additions to the teams at the start of the seasons. The answers to these two questions will practically decide our Bayern Munich v Wolfsburg prediction.
Key Misses For Bayern Munich
There will be a lot of key misses for the Bavarians in this Bundesliga opener. Of course, they start as favorites to get the win here and coach Van Gaal also expressed his desire for his team to claim the maximum three points as anything else would be a failure and that's the last thing they want at the start. However, what you want and what you get are two completely different things as it often happens in life.
The basis of our Bayern Munich v Wolfsburg prediction are the absentees for the home side. Robben is a long term injury after playing through the World Cup not fully recovered. His partner in attack, Croat Ivica Olic will also miss a large part of the season. These two misses in attack will prove to be crucial and give an advantage to the Wolves. Nonetheless, Bayern will still be dangerous and score at least once in this match as they can rely on young sensation Muller along with Mario Gomez and Klose. Another accurate Bayern Munich v Wolfsburg prediction is that  Franck Ribery will start the game despite the huge sex scandal he got himself involved into along with Karim Benzema.
Wolves Hungry For Revenge
Things are looking much better for Wolfsburg right now. Steve McClaren is now the first English coach in the Bundesliga and will be looking to bring the club back to the top. The goal in front of him is to lead Wolfsburg to the top five in the Bundesliga and get a Champions League place if possible.  Another accurate Bayern Munchen v Wolfsburg prediction is that the away side will be captained by Edin Dzeko after the Bosnian star wasn't sold despite all the transfer speculations surrounding his future.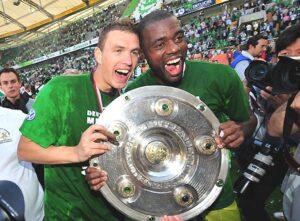 Wolfsburg have a very interesting story. They won the Bundesliga in 2009 with former Bayern coach Felix Magath in charge. Then in the next year they collapsed completely and finished 8th in the standings and got eliminated from the Champions League right from the group stages only to fail later on in UEFA's newly formed Europa League. So it's fair to say that 2009/10 was a terrible season for the Wolves and they enter the new campaign hungry for revenge.
During this summer, Wolfsburg spend more money than any other club in the Bundesliga as they invested a total of 22.5 million euros in the transfer market bringing in new central defensive pair Arne Friedrich and Simon Kjaer, winger Mario Mandzukic and midfielder Cicero. Steve McClaren is obviously also a new name. Hence it's obvious that the club management is desperate to regain their previous success in the Bundesliga which is important for our Bayern Munich v Wolfsburg prediction. The Wolves have some other top players in their roster such as Edin Dzeko, Grafite and Zvjezdan Misimovic. This in fact is the trio that brought the title in 2009 scoring over 50 goals between them.
Bayern Munich v Wolfsburg Prediction: the Bavarians will have  a though start to their new season and we feel they won't be able to win tonight. The absences of Robben and Olic will prove to be too much against a hungry team of Wolves that's looking to regain their elite status by sending out a strong signal right from the start.
Betting Tip:Bet On Draw or Wolfsburg to Win On Double Chance at 2,50!
What's your prediction for Bayern v Wolfsburg?