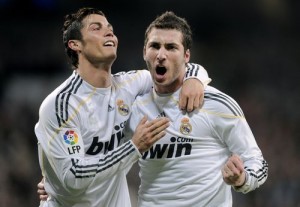 It's Judgment Day in the 2009/10 Spain Primera Liga, as Barcelona and Real Madrid are still battling for the Title. After 37 games played, Barca have collected 96 points while Real are second with 95. All the online bookies are favoring Barcelona as Outright winners as the odds for them are about 1.05, while for Real are about 10.00! Now is the perfect time to bet on who is going to win because tonight's The Night when it will all be revealed. Real have already scored an incredible total of 101 goals going into this final fixture!
On the last day of the season, both teams will have some tricky fixtures against teams who are fighting for survival as Barca play at home against Valladolid while Real travel to Malaga. So even if both clubs win tonight, Real can still win it on the final day of the season, but the odds will drop again.
Real have had a spectacular 2009/2010 season in Primera and even Guardiolla had to admit he was stunned by their desire to fight till the end. They deserve to win and if you look at how hard they have battled over the last couples of months you will see why:
8/05/2010 Liga BBVA Real Madrid vs. Athletic Bilbao W – 5:1
05/05/2010 Liga BBVA Mallorca vs. Real Madrid W – 1:4
02/05/2010 Liga BBVA Real Madrid vs. Osasuna W – 3:2
24/04/2010 Liga BBVA Zaragoza vs. Real Madrid W – 1:2
18/04/2010 Liga BBVA Real Madrid vs. Valencia W – 2:0
15/04/2010 Liga BBVA UD Almeria vs. Real Madrid W – 1:2
10/04/2010 Liga BBVA Real Madrid vs. Barcelona L – 0:2
04/04/2010 Liga BBVA Racing Santander vs. Real Madrid W – 0:2
28/03/2010 Liga BBVA Real Madrid vs. Atletico Madrid W – 3:2
25/03/2010 Liga BBVA Getafe vs. Real Madrid W – 2:4
20/03/2010 Liga BBVA Real Madrid vs. Sporting Gijon W – 3:1
14/03/2010 Liga BBVA Valladolid vs. Real Madrid W – 1:4
They have 11 Wins in their last 12 matches!Yes they lost the derby against Barca but the fact they still kept on fighting and didn't back down deserves credit. Barca on the other hand did something so incredible last year winning 6 trophies out possible 6! Something that no club in the world had done before and that's absolutely amazing.
But Enough Is Enough! Barca had their fair share of success and in football what goes up must come down! Now you are seeing how this season they are giving up one title after the other. First they got eliminated in Copa Del Rey by guess who – Sevilla. Then they lost to Inter in the Champions League. And now they will lose the Primera as well. BetOnWins is all about giving you the most accurate football predictions so mark our words on this one. If you want to get top info like that for the future, from the future, all you have to do is Register For Our 20$ Monthly Pack!
Spain Primera Liga 2009/10 Ouright Prediction: Bet On Real Madrid to Win La Liga at 10.00 at Bet365! For every dollar you bet on Real to Win La Liga 2009-10, you get 10! Now that's Value!