The best betting pick for today, August 16th, 2019, comes from Spain as La Liga kicks off the new 2019/20 campaign with a nice derby, so we bring you the most accurate Athletic Bilbao v Barca preview and prediction. We gave you a free wining pick last Wednesday, so let's make a good run here.
Athletic Bilbao are hosts in their amazing San Mames stadium that was rebuilt in 2010. It presents a great atmosphere for footballing matches, and you can sure few seats would be empty tonight. The biggest news considering this particular Bilbao v Barca prediction is that Messi will miss the game. The Barca management are carefully managing his condition and they wan't to avoid rushing him into the season. The Argentine, as great as he is, is no longer in his prime footballing in years. No one escapes father time and fans worldwide should get used to seeing his gradual decline starting from this season. Truth be told, we have to appreciate him while he is out there.
But back to our best betting pick for today with this Bilbao v Barca prediction. The Catalans are favored by the bookies to win the game just as basically every game they are involved in. However, we have reasons to suspect a slight surprise could be on the cards here, or at least the win won't come easy for them.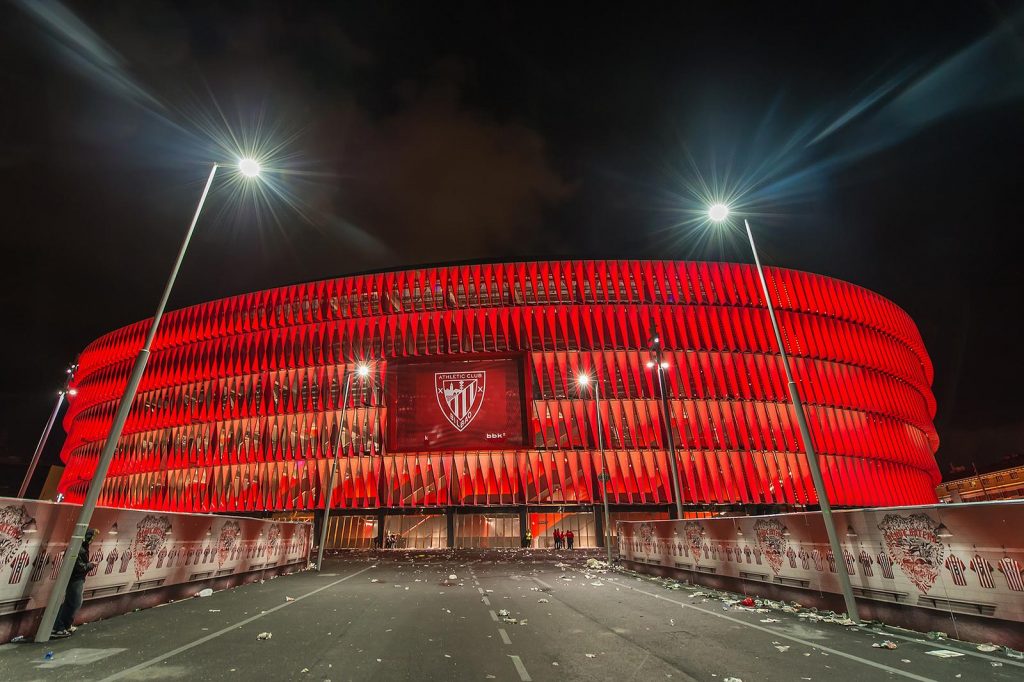 The hosts will be hyped up for this one for several key reasons. Firstly, it's the season opener, and everyone wants a great start. Secondly, the fans will be even more pumped than usual after not seeing their heroes in official action for three months. And lastly, Athletic Bilbao will celebrate the life and career of Koldo Aguirre, a club legend that passed away on July 3rd, 2019. There will be a lot of important people in the stands, further increasing the importance of the game for the home team. As always, the atmosphere is one of the keys to successful football predictions.
Athletic Bilbao managed to keep Inaki Williams, who is argubly one of the best young attackers in football today. Last year was his breakthrough as he scored 13 goals reaching double figures for the first time. We beleive he will be even better this. If you are looking for an opportunistic Bilbao v Barca prediction for August 19th, bet on Inaki scoring at any time. Here is Athleti's squad for tonight's game as listed on their website:
U. Simón, Unai Nuñez, Yeray, San José, Beñat, Unai López, Williams, Muniain, Larrazabal, Herrerín, Dani García, Yuri, De Marcos, Aduriz, Capa, Raúl García, Balenziaga, Vivian and Sancet.
Without Messi, Barca will start with their newly formed DSG trio – Dembele, Suarez, Griezman in Valverde's favored 4-3-3 system. Frankie de Yong will surely make his official debut in midfield after his impressive preseason. Busquests and Rakitic should partner him in midfield. They provide tons of footballing IQ and experience in the Barca way of playing, so that should help the yong Dutchmen settle in more easily. The defense seems stable, at least on paper, with Samedo and Alba on the flanks, and Pique and Langlet in the center. Overall, a very strong Catalan side, that has the advantage in terms of quality, but that's not always everything in football.
Last year's game ended goalless, and it's quite rare to see two teams produce two straight goalless games between them. We should definitely see some goals in this one.

? Valverde: "The team have done well in this pre-season. I'm happy" – src @FCBarcelona
? Valverde: "Our goal is to repeat what we did last year in the league. We know that continuing to win is difficult, but we will try to achieve it." – src @FCBarcelona
? Valverde: "Starting at San Mamés is complicated. We know the potential of Athletic Club. They've maintained the dynamics of last year and we will have to be focused" – src @FCBarcelona
Valverde: "Sergi Roberto is now in midfield because we lacked dynamism there." – src @barcacentre
Valverde: "Arturo Vidal is still here with us, he's a player of ours and I'm counting on him. We'll see what happens, I say the same of possible arrivals." – src @barcacentre
Valverde: "At Athletic Bilbao I also felt pressure. Every club has its goals and you always have to improve." – src@barcacentre
Valverde: "Semedo is ready to become a starter, but I say this today, August 15. Until 31, everything is open, but I hope he will continue with us." – src @barcacentre
Valverde: "In two years La Liga we have lost 4 games and 2 of them were when we were already champions." – src@barcacentre
Valverde: "Play better… compared to what? If you compare us every day with the best Barça in history it's difficult. I think last year there were games that we have been very good." – src @barcacentre
Valverde: "Rakitic is a very important player for us. He has been in the last two years and we hope he will continue to be." – src @barcacentre
Valverde: "Messi? We are not going to risk anyone. He has not yet trained with the team and we will wait because he is in his recovery process." – src @barcacentre
Athletic Bilbao v Barca Prediction: We expect these two teams to put on a good show and kick off the new La Liga season. Messi will be missing, and even though Barca are still strong, don't be surprised if Bilbao earn a point or three. Overall, both teams to score should be a winning bet.
Betting Verdict: Both Teams to Score @ 1.75
*Final Score: 1:0 for Athetlic Bilbao