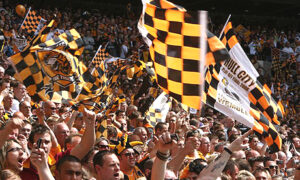 Our tip for this game is that Hull won't lose.  It will most likely be a Draw but there are some slim chances that they could win it. Hull City has some pretty decent players and yet they are regarded by the bookies as the underdogs in this game. Hull got some quality players like Geovanni, Jimmy Bullard, Fagan, Vennegoor of Hesselink, Mendy, Boateng.
Another factor favoring Hull is Motivation. Hull are in the relegation zone fighting for survival whereas Birmingham City are absolutely safe and their players know it – they can't reach European places and they are way beyond the 40 points mark which is considered as a savior-guarantee in England.
This is a match between the 9th (Birmingham) and 19th (Hull City) in the English Premier League, but that's what football predictions are all about, you have to take risks and it's better to take risks going for higher odds rather than lose on small odds as the risk is always there, in both cases.
Our Prediction: Hull Won't Lose, so Double Chances, X or Hull City at Bwin as they will double your money on that bet should Birmingham fail to beat them.