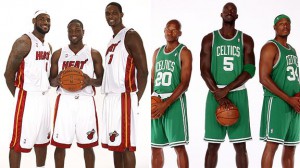 The Miami Heat vs Boston Celtics series is shaping up to be a real classic, and despite the fact that newly formed Big Three took a 2-0 lead against their older version, things are about to get more dramatic and even as the series moves to the TD Garden in Boston. In front of their home crowd, the experience of KG, Ray Allen and Paul Pierce will be pivotal as they look to avoid going down 3-0 in the series, knowing that no team in the history of NBA has overturned such a deficit.
Miami were the agressors in the first two games. They were the more energetic team that was going straight to the rim instead of settling for jump shots and won the majority of hustle plays and 50/50 balls. There are some logical reasons behind Heat's success in the series against Celtics thus far, and they are also relevant in regards to our Boston Celtics vs Miami Heat Game 3 Prediction.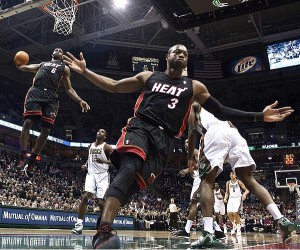 First off, LeBron and Wade both have revenge on their mind everytime they come up agianst Boston, as that was the team that eliminated them in their personal quests to a Championship in previous years. James threw up his Cavs jersey after Game 6 last season against Boston and it seemed that he already had made up his mind at that point that he was leaving Cleveland for good. Wade got knocked in the very first round that year by the Celtics. Now that Wade and James have joined forces, it looks like they will finally be able to defeat their mutual enemy that haunted them in the Eastern Conference in that last 4 seasons.
However, this Celtics vs Heat prediction for Game 3 is a single and yet crucial metting. Now that the veteran group of the Old Big Three and Rondo is facing elimination, they will be extremely charged up from the tip-off. A lot depends on Rondo in these Heat v Celtics series. No other player can have such a huge impact on a game without even scoring. The way he distributes the basketball is of supreme quality and no other point guard comes close to him in that category, although playing with the likes of Allen, Pierce and Karnett definitely helps. Expect Rondo to have a strong performance in Game 3 and be more aggressive in terms of shooting the ball.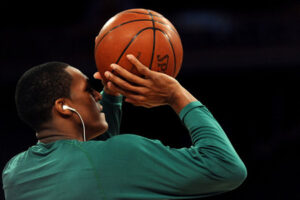 Most teams decide to play off of Rajon in defense as they leave him open and simply let him shoot from distance knowing that he will miss most of his shots. But Rondo is more confident with his shooting when playing at home at the TD Garden, so combined with being more aggressive in penetrating the paint, he should be able to score over 15,0 points in this one.
Paul Pierce has been a dissapointment for Celtics fans in these series so far. First he let himself get dismissed by the ref in the opener with two technical fouls for violent words targeted at Jones and then Wade, and then he had a quiet second outing in which he also suffered an injury to his left foot. And yet, Pierce is a big time player and that's exactly the type of game in which he would like to leave a mark and lead his team.
Perhaps the most important factor about this Celtics vs Heat Prediction and Game 3 Pick is the time for rest that teams had. The Celtics are the older team that needs as much time to recuperate as possible and now they got 6 whole days in between Games 2 and 3, which should allow them to come out strong on Saturday night in front of their home crowd. The atmosphere should also provide them with some additional energy they will so desperate need in the final minutes.
Another element of this Celtics v Heat prediction for Game 3 is the highly anticipated return of Shaq. Doc Rivers confirmed that he will be unleashing the monster for this game, and that can only be a boost for the C's. Meanwhile, Udonis Haslem is also expected to finally return for Miami, so these are two important aspects to consider.
Boston Celtics vs Miami Heat Game 3 Prediction: Our money is definitely on the Celtics to win Game 3 as they will be desperate to avoid going 3-0 down. The crowd and (if necessary) even the refs will help them get a win. The odds are rated at about 1,65 for the C's on Money Line.